Rubber futures gain after weeks of decline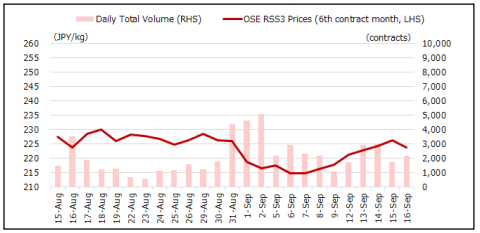 Lifting of Covid lockdown and 'robust economic data' in China improve market sentiment
Tokyo – Rubber futures closed the trading ended 16 Sept higher, after several weeks of pressure, according to the latest trading update by the Tokyo Stock Exchange JPX.
In Japan, Osaka Exchange futures closed 2.8% higher with firm trading volume, while China's SHFE and INE futures increased 5.4% and 3.2%, respectively.
JPX linked the gains to "heavy short covering" amid falling trading volume.
Meanwhile, in Singapore, SICOM futures rose 1.6%, with increased trading volume, including new buyers.
According to JPX, the lifting of the full citywide Covid lockdown in China's Chengdu and "robust economic data" coming from the country positively impacted the market, prompting "further buying and short covering on rubber markets."
China reported a better-than-expected industrial production of 4.2% and stronger retail sales of 5.4% in August.
The country's total vehicle sales in August were down by 36,704 units, indicating that demands remained sluggish following two consecutive months of decline.