Chinese tire & rubber sector at another crossroads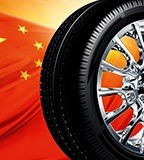 Imposition of Covid lockdowns and other restrictions since March have dented previously buoyant growth prospects
Having bounced back strongly from the initial impact of the Covid pandemic, China-based tire and rubber-product manufacturers, and their suppliers, are now facing increasing uncertainty over the future direction of their markets.
Alongside the mounting economic pressures in export markets for Chinese tires, rubber goods and processing machinery in Europe and North America, reports suggest that government enforced lockdowns are taking a significant toll on the domestic economy.
Natural rubber traders, both inside and outside of China, continue to report a slide in pricing for the commodity linked to concerns over slowdown in both the global and domestic economies – the latter linked to a recent surge in Covid variants and lockdowns.
Japan's JPX trading exchange, for instance, reported "robust speculative and fresh selling" on Chinese rubber markets, with future declining by 7% in mid-July. Traders, it added, were unsettled by Chinese official state figures showing second quarter GDP growth of +0.4%, well below market expectations of +1.2%.
China's tire production in May declined 10% year-on-year, to 70 million units, said China's National Bureau of Statistics. Production over the first five months totalled 341 million units, down 9.3% on the same period in 2021.
Export figures provide a brighter note, with China exporting 49 million 'new rubber tire' units in May, up 4.8% on the same month a year ago, according to official data.
Weight of tire exports reached 660,000 tonnes, up 28.5% on May 2021, said China's General Administration of Customs. The value of exports in May – in US dollars – jumped 38.7% year-on year to $1.7 billion.
Over the first five months of 2022, China exported 233 million tires, registering a 1.3% decrease from a year ago. Export value, however, rose 19% a year ago to $7.6 billion, while the tonnage level climbed 7.7% to 3 million tonnes.
Further encouragement emerged recently with a European court ruling that the EU had illegally imposed five-year, anti-dumping and related tariffs on Chinese truck & bus tires back in 2018. However, hopes of a rapid restoration of exports to the bloc have since receded as the European Commission opted to reopen its original dumping investigation to address the identified illegalities.
Robust sector
Few market watchers will write off prospects for the sector, mindful of the robustness and adaptability of the Chinese rubber industry. This applies not least to the country's largest tire makers who stormed back to growth in 2021 – seemingly unscathed, from the worst of the Covid crisis and, before that, international trade sanctions on their exports.
Sales among the top 32 Chinese-based tire manufacturers increased by 29% year-on-year in 2021, according to figures supplied to ERJ by the China Rubber Industry Association.
Against that, one major foreign machinery supplier informed ERJ this April, that "only a limited number of Chinese tire makers have been investing in new expansion projects of rubber mixers, while others in China and many elsewhere in Asia have been postponing projects. Overall, so, the Asian market is expected to slow."
China-based rubber & tire machinery manufacturers, nevertheless, seem resilient: ERJ's annual survey of the global sector found that sales among leading Chinese suppliers increased 30% year-on-year in 2021 to reach $1,561 million.
Across the top 10 Chinese suppliers, revenues increased 22% year-on-year in 2021 to $1,390 million, the figures based on official data from the China Rubber Machinery Association (CRMA) also show.
Chinese tire & rubber machinery maker MESNAC, for instance achieved a 76% year-on-year increase in operating revenue in 2021 to Yuan5.43 billion (about e790 million), the company's annual report shows. There were also impressive gains recorded by SafeRun Group, Guilin Rubber R&D Institute and Tianjin Saixiang Technology among others.
For now, the tire and rubber industry is closely watching China's response to Covid resurgences, particularly the lockdowns and restrictions that have heavily impacted industrial production since March.
In its first quarter report, to 31 March, Michelin posted a 2% year-on-year rise in sales of passenger car and light truck tires, but a 9% decline in replacement sales.
Demand in China, it stated, rose by "a slight 2% over the quarter, as surging growth in the first two months slowed significantly in March with a 15% year-on-year decline as the resurgence of Covid-19 cases forced the temporary closure of many automotive plants."
Chinese replacement tire demand fell 9% year-on-year, as robust gains in January and February were erased by a 20% year-on-year drop in March – again caused by the resurgence of Covid-19 and the strict lockdowns enforced in certain provinces.
Likewise, Goodyear reported a difficult pricing environment in China, particularly in the OE market, during the first quarter. At that stage, the US tire maker estimated the cost impact of plant closures in China at around $10 million "assuming no further shutdowns".
Recently, lockdowns in China have resulted in disruptions at Goodyear factories in Pulandian and Kunshan, chairman, CEO, president Richard Kramer reported in May, on a conference call with investment analysts.
Goodyear vice president and CFO Darren Wells said Goodyear had lost about 700,000 units of production during the shutdown at the end of March in Pulandian and the shutdown during April at Kunshan.
"That's effectively worth about $10 million to us with the unabsorbed overhead and the lost margin on those tires," said Wells. "It is sort of unclear what, if any, additional disruptions there might be there… and obviously, we're hoping that we get to a point where those disruptions are behind us."
Kramer added that Goodyear had opened very early talks with local officials to get employees authorisations to return to work: "So the Covid lockdowns are obviously something we're all watching, but… at least we have the ability to keep the plant running there as the country needs it to, albeit at a lower level."
For its part, Pirelli reported a strong decline in the Chinese market in March, including a 23% decline in the replacement segment. It expects the negative trend to continue in the second quarter and 'cautiously' forecasts a 6% decline in total car tire sales in 2022, including 3% lower sales of car tires sized 18 inches and above.
"The new Covid outbreaks in China are an additional element of uncertainty, with an impact on economic activity and consumption," said Marco Tronchetti Provera, Pirelli executive vice chairman and CEO. "We consider that should recover in the second half of the year."
Pirelli's general manager operations Andrea Casaluci estimated that the total tire market in China would decline by 20% in the second quarter "more or less affecting both channels, replacement and OE, in the same way."
Casaluci went on to confirm that Pirelli's operations in China were "running" with its factories in Shandong and in Henan province unaffected by restrictions at that time.
"We have a slowdown of production in the second quarter, of course, related to this slowdown of the local demand," the Pirelli executive continued.
With regard to its supply-chains, Casaluci said Pirelli had suppliers providing goods for the local factories and "a backup plan to be fully independent from China in the other factories in terms of supply."