VMI owner posts strong first half for tire-building unit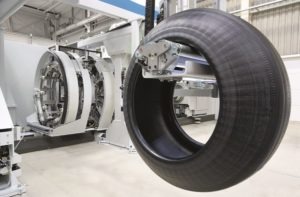 "Increased production output as a result of the record order intake," reports TKH
Haaksbergen, The Netherlands – TKH Group NV, the Dutch parent group of VMI, has reported a strong first half for the tire machinery manufacturing business.
Epe, Netherlands-based VMI operates within a TKH 'Smart Manufacturing systems' segment, for which tire-building systems represent about 71% of the turnover – which grew 38.4% to €256.0 million in the first half.
Over the first six months of 2022, Smart Manufacturing systems delivered a "substantial" increase in turnover, including 34.2% year-on-year organic turnover growth, TKH announced 16 Aug.
Price effects and currency exchange rates had an upward impact of 3.4% and 0.8%, while the order book remained at a high level of €362.0 million, according to the interim report.
First half earnings (EBITA) grew year-on-year by an impressive 92.7%, to €38.0 million, TKH also noting high order intake and production output over the period.
The tire-building business "increased our production output as a result of the record order intake from 2021, which helped to substantially improve results," said TKH.
Order intake for both passenger and truck tire systems remained at a high level in the first half, added the Haaksbergen-based group.
In particular, VMI's automated tire component preparation and bead assembly Revolute "received excellent market response, resulting in new booked orders."
Meanwhile, "industrialisation of the tire machinery maker's UNIXX technology was "progressing well and on track for commercial launch by the end of this year," added the Dutch group.
Looking ahead, TKH expects both turnover and EBITA at Smart Manufacturing systems to be lower in the second half compared to the first six months.
The assessment was linked to "temporary delays in completion of projects… expected due to missing parts from a stressed supply chain."
TKH, however, added that market demand "is high and the order intake in H2 2022 is expected to continue at a high level with a very good start in Q3."
For the group as a whole, TKH reported a 24.0% year-on-year increase in first half sales to a record €899.7 million and EBITA up 37.0% to €115.6 million.