German machinery makers scale back growth expectations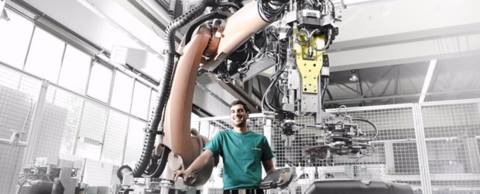 Full order books, but fewer new orders in the first four months of 2022
Frankfurt, Germany – German plastics and rubber machinery manufacturers are expecting growth of 0-2% in sales for the year 2022 amid ongoing challenges around raw materials supply and rising prices.
This follows year-on-year growth of over 12% in 2021, said Ulrich Reifenhäuser, chairman of the plastics and rubber machinery association at the German mechanical engineering association (VDMA).
"It didn't turn out to be a record year, as the impetus from the automotive sector in 2018 and 2019 was too strong for that," said Reifenhäuser.
"But we are more than satisfied with the order intake in 2021 as a whole - up 39% against the previous year," he added.
In terms of production, the industry recorded total sales of €10.5 billion for 2021, which included €7.5 billion from 'core machinery' production.
The figure was up by nearly 6% from 2020, but fell short of 2019's pre-Covid €11.4 billion total.
In terms of exports, the country had a 19.6% share of the 2021 global rubber & plastics machinery market, which grew by 13% year-on-year to €38.6 billion.
China increased its exports by an impressive 28.2% to €5.7 billion during the year, thus relegating Germany to second place, with exports valued at €5.2 billion, up 9.4%.
Italy, the US and Japan followed Germany with smaller global shares of 7.1%, 6.7% and 4.1% respectively.
As a whole, the EU27+UK captured 40% of the global market with an 11% growth during the year.
Commenting on the current market environment, Reifenhäuser said order books of companies are "still reasonably well filled".
However, he went on to say, due to supply-chain problems resulting from lockdowns and the Ukraine war, it is becoming increasingly difficult for companies to convert orders into turnover.
In addition, rapidly rising prices for raw materials and energy are adding to the woes of the industry. Order volumes are also declining due to "a saturation effect" in the market.
"In the first four months of the current year, new orders fell 17% short of those of the same period last year," explained Thorsten Kuehmann, managing director, VDMA Plastics and Rubber Machinery.
Kuehmann linked the decline to "the many worries" among plastics and rubber machinery manufacturers.
"Availability of supplier parts is the predominant issue in the mechanical engineering sector, which, according to surveys, will become more acute again in the coming months," he said.
"The uncertainty in the world market as a result of the Ukraine war is doing the rest," Kuehmann added.
For this reason, VDMA recently revised its turnover 2022 forecast of 5-10%, and now expects a sideways movement, or at best a small increase of no more than 2%.