Goodyear 'imagines' airless tires by 2030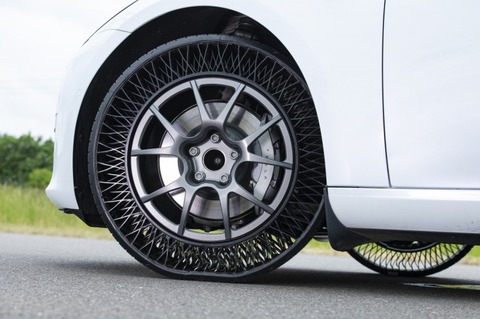 Aims to produce "first 100% sustainable material and maintenance-free tire…"
Luxembourg - Goodyear plans to introduce airless tires on the market by 2030, officials signalled at a recent press event to highlight the company's progress in this area of technology.
In a review of the display at its Luxembourg test-track, Goodyear said it was aiming for DOT-approved applications for its airless technology while admitting that this goal was still several years away.
The target "is to produce the first 100% sustainable material and maintenance-free tire on the market by 2030," Michael Rachita, Goodyear's senior program manager for non-pneumatic tires, said in the 17 May release.
Goodyear, he went on to say, has been testing its airless tires globally at its proving grounds, but specifically the company has gone into market in key areas such as robo-shuttles which were employed to move limited number of people around in Jacksonville, Florida.
"Another one is a much smaller vehicle, a micro-delivery robot, which delivers small packages such as coffee, " said Rachita, noting that the micro-delivery robots are being used in the US, UK and Estonia.
So, he said, "we are getting outside our proving grounds and putting them out in the market."
While pneumatic tires "are not going away any time soon", the Akron tire maker said airless models offered new opportunities, especially in a world of rapidly changing transport technologies.
"As transport is being reimagined, it's time for tires to be reimagined in a similar way," said Goodyear, listing maintenance-free operation, increased comfort with heavy loads and reliability among the advantages of airless tires.
This, it said, applied particularly for autonomous vehicle and transport-as-a-service applications, while airless models would reduce the waste-stream associated with tires - by not being scrapped early due to issues such as punctures.
Goodyear's airless tire structure comprises three components: a 'shearband' which includes the tread; a 'connecting web'; and the wheel.
The 'connecting web', it explained, is the most critical element as, in combination with the 'shearband', it supports the weight of the vehicle and gives the feel of a pneumatic tire.