Tire Tech Report: Towards a greener 'magic triangle'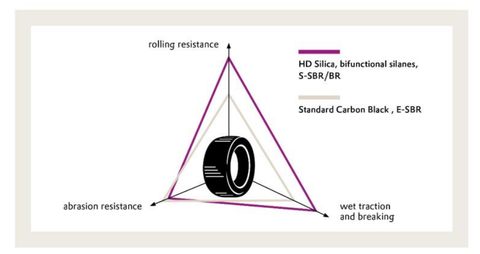 Materials scientists steadily expanding the envelope of wear resistance, fuel efficiency and traction
Advances in synthetic rubber technologies being presented at the Tire Tech Expo show in Hanover reflect increasing market and regulatory demands to reduce the environmental impact of tires while maintaining safety and performance on the road.
Typifying the trend is Eneos, which will showcase new functionalised solution styrene-butadiene rubbers (S-SBRs) with high-molecular-weight branched architecture said to overcome processability issues – due to high viscosity of linear versions of the polymer – while maintaining rolling resistance and wear resistance.
Other Eneos innovations on show will be the hydrogenation of SBR with uniform cross-linking and freely rotating C-C single bonds. The chemical structure is said to enhance intermolecular entanglement, thereby improving wear resistance and mechanical strength.
The Japanese group will also present a new functionalised S-SBR architecture, said to improve wear resistance and mechanical strength via enhanced stress distribution under strain.
Italian major Versalis will showcase new functionalised S-SBR materials offering enhanced polymer-filler interaction, and an advanced neodymium butadiene rubber (BR) molecular architecture, tailored to improve the overall performance of tire compounds.
Sustainability will be a key Versalis theme, particularly the introduction of bio, bio-circular and circular feedstock via the mass balance approach to styrene and butadiene monomers.
Backed by ISCC Plus certification, these polymers are said to offer the same performance, quality and properties as traditional fossil-based products – without the need for new tests, product development, technology adaptations, registration or regulatory approvals.
While light-weighting of tires is a promising approach to increasing the range of electric vehicles (EVs), the belt compounds used are likely to be stiffer and, therefore, harder to process.
In Hanover, Flexsys will present proprietary technology to facilitate the extrusion and calendering of such compounds under the required aggressive conditions.
The improved processability is expected to "enable tire performance that is not possible today while improving sustainability through raw materials savings."
Synthos will present its latest developments in functionalised high-molecular-weight S-SBR for ultra-high-performance tires for electric vehicles: allowing enhanced wet grip, increased energy-efficiency/driving-range and improved tire wear properties.
Experts on the company's stand will explain how its multi-functionalised S-SBR delivers these property gains by reducing hysteresis loss and introduce a new 'polymer-intrinsic' technology, designed to enable low compound viscosities in rubber formulation.
ZS Elastomers, a JV between Zeon Corp. and Sumitomo Chemicals, will highlight the role of its latest innovations in functionalised S-SBR and Li-BR in the development of ultra-high-performance tires.
The company's focus will be on optimisation of the balance between rolling resistance, wet or snow grip, and durability in eco tires, while maintaining the ability to produce the tires efficiently and economically.