Hankook opens "Asia's largest" proving ground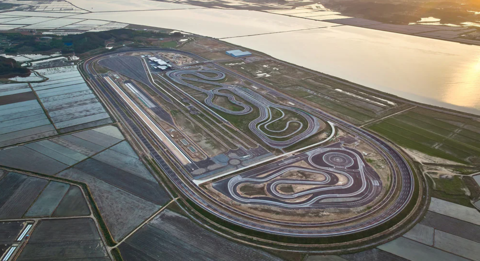 Hankook Technoring includes 13 testing tracks, and accommodates all types of vehicles
Seoul – Hankook Tire has officially inaugurated what it describes as "the largest proving ground in Asia" in Taean, on the western coast of South Korea.
Hankook Technoring covers 1.26 million square metres and is as large as 125 soccer fields combined, said Hankook 25 May.
The facility features 13 testing tracks, including "the longest test track in Asia," the Korean tire maker added.
"The new proving ground enables rigorous testing of Hankook's most advanced products including electric vehicle and supercar tires," the company said.
The test tracks are designed to accommodate all types of vehicles from supercars to trucks and buses, and testing capabilities include high-speed driving test at up to 250km/h.
The proving ground is also equipped with a control tower, office buildings, workshops, fuelling stations, and electric vehicle charging stations.
The 37.1-metre-high control tower features integrated monitoring systems to check various test surface and climate conditions.
"Tires, being the only media in a vehicle that makes contact with the road surface, are the key for maximising vehicle performance," said Hyunbum Cho, chairman and CEO of Hankook & Co.
"This is why we at Hankook recognise the need for various testing grounds to ensure best product quality in all conditions," he added.
The addition of the new test tracks, Hankook said, completes the tire maker's R&D infrastructure and enables it to advance innovation capabilities.