Expo news: The Tire Cologne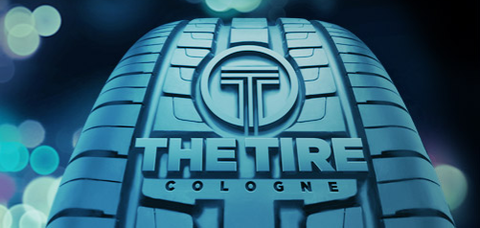 News and updates from this week's Tire Cologne international tire trade fair
Cologne, Germany – This week, ERJ is reporting on the highlights of the Tire Cologne international tire trade fair being will be held from 24-26 May:
Organisers buoyed by expo attendance
Organisers of The Tire Cologne have posted an 'impressive' showing for the international expo for the tire and wheel trade industries, which ended on 26 May.
Despite the current geopolitical situation, the trade fair attracted around 12,000 trade visitors from 100 countries and 300 exhibiting companies, reported Koelnmesse.
"The Tire Cologne delivered impressively, as an international industry platform and in setting the course for the future." Oliver Frese, executive director of Koelnmesse,
"This is the perfect template for elevating The Tire Cologne 2024 to the next level", Frese further stated, in reference to the next staging from 4 to 6 June 2024.
"The industry so urgently needed the personal exchange and used The Tire Cologne to the fullest for networking and business," commented Stephan Helm, chairman of the BRV, the German association for the tire and vulcanisation trade.
SHOW HIGHLIGHTS

Falken/Sumitomo Rubber
Falken Tyre Europe, part of Japan's Sumitomo Rubber Industries (SRI), launched its new premium Falken Azenis FK520 ultra-high-performance tire for performance cars and SUVs.
Available from spring 2022, the tires have been developed using "the most advanced materials and the latest simulation technology".
Reinforced with Aramid, the tire is structurally stronger and stiffer than its predecessor, providing greater stability and more precise steering behaviour.
Using "the latest construction techniques", the tire maker has reduced the weight of the tire by 10% in comparison with its predecessor.
Due to its lower weight, the unsprung mass and rolling resistance of the tire are reduced, improving fuel efficiency.
Another development feature was the use of '4D nanosimulation' to deliver the "Diamond Cut" tread block edges and integrated noise-reduction elements.
"The arrangement of these small indentations causes tiny turbulences which effectively reduce the rolling noise synonymous with UHP tyres," explained Falken.
EV tires advance

Another talking point on the Falken Tyres stand concerned the recent advances by parent group Sumitomo Rubber around its e. Ziex tires for electric vehicles.
The Japanese group introduced the first replacement tires for EVs in China earlier this year and is to follow this up with the launch of the e. Ziex for Europe in 2023.
SRI employed "advanced materials development technology to fine-tune rubber compounds" for optimised rolling resistance, wet-driving and steering-stability performance.
Another feature is SRI's proprietary Silent Core technology, which employs special noise-absorbing sponges to provide a "superior level of quietness" in EVs.
The EV tires are also said to be lighter than conventional tires, which contributes to resource savings as well as a lower overall environmental impact.
ZC Rubber
China's leading tire maker Zhongce Rubber has launched new Westlake and Goodride ultra-high-performance flagship tires for Europe at Tire Cologne
The Westlake ZuperAce Z-007 and Goodride Solmax 1, are claimed to deliver enhanced quietness, grip, and handling performance, helped by an all-around tire structure upgrade with core technologies from ZC Rubber.
ZC Rubber is employing BPOT technology, which "significantly improve" a tire's high-speed performance, shoulder durability, and wear resistance, in the tire.
Furthermore, "hybrid formula technology" optimises the distribution of nano-silica for improved grip and fuel efficiency while allowing for faster water drainage.
Linglong Tire
The world top 12 tire maker is presenting its latest product, technology and factory developments at Tire Cologne 2022.
Linglong's new product offerings feature its Master Series tires, which are already available on EU market.
Among other series details, the company will highlight wet and dry braking results of its Linglong Sport Master in recent Auto Bild tire testing.
According to Linglong, tread patterns of Master Series utilise 'steady-state pressure/tension balance pattern contour design' and 'blanking sipe' technology.
These technologies, it says, help increase the tires' contact patch by 3% compared with the previous generation of tires.
Linglong's will also update Tire Cologne visitors about its new tire factory in Serbia, which is expected to start production in this year.
Hankook
At the Cologne show, Hankook is launching iON, its first family of tires specially designed for electric vehicles (EVs), so advancing the transition of mobility towards zero-emission vehicles.
Reducing rolling resistance was a key development objective for the global iON range, as this means more kilometres per battery charge.
Hankook also addressed the higher vehicle mass of EVs with a higher load capacity, while ultra-resistant aramid fibres effectively counteract the deformation forces caused by the especially high torque.
iON products include Hankook's 'integrated sound absorber' technology, which – along with the unique tyre pattern – "noticeably reduces" noise inside the vehicle.
The tread compound features a high proportion of natural resin to optimise durability and reduce wear, and a high proportion of natural oils both for enhanced sustainability and increased tire mileage.
Hankook iON products will initially be available in three designs at the market launch, in sizes from 18 to 22 inches: in Europe as the Ventus iON S summer tire pattern from May, and as the Winter i*cept iON from September.
Hankook is also introducing an all-season version, the Ventus iON A tire, for the North American market.
Future oriented Nexen
In Cologne, Nexen Tire premiered its "future-oriented" tire N'FERA Sport EV, which has been specifically engineered for use on electric vehicles. Other show features included the Porsche Panamera in Nexen's OE zone, along with its N'FERA Sport OE tire. Nexen said it was also using Tire Cologne 2022 "to expand its dealer network, secure partnerships, and further its global strategy."
A perfect fit
Germany's tire trade and rubber industry associations, BRV and WDK, teamed up at Tire Cologne to display the correct mounting of sensitive UHP and runflat tires - according to WDK guidelines. Meanwhile, wholesaler Bohnenkamp AG, which specialises in commercial vehicle tires, focused on the fitting of large tires for agricultural and industrial vehicles.

Retreading conference

European retreading association BIPAVER staged the Global Retreading Conference at the trade fair: examining current market and regulatory developments, challenges and opportunities as well as technical innovations. Discussion topics included engagement with politicians to promote the use of retreading within a circular economy and the integration of retreaded TBRs into European tire label regulations.
The Tire Cologne
From 24 to 26 May, the international tire and wheel industry will meet again in Cologne following two years of restrictions due to the corona pandemic.
The Koeln Messe event represents the industry at various levels: manufacturing, trade, wheels, retreading and services.
A total of around 300 companies and brands from 35 countries are expected to present their products and services at the expo.
Exhibitors include Continental Reifen Deutschland, Pirelli Deutschland, Hankook Reifen Deutschland, Michelin Reifenwerke, and Falken Tyre Europe, among others.
The Tire Cologne is organised by Koelnmesse and the industry sponsor, the Bundesverband Reifenhandel & Vulkaniseur-Handwerk e.V. (BRV/German Tire Retailers and Vulcanisation Trade Association).