Italian rubber & plastics machinery sales return to pre-pandemic levels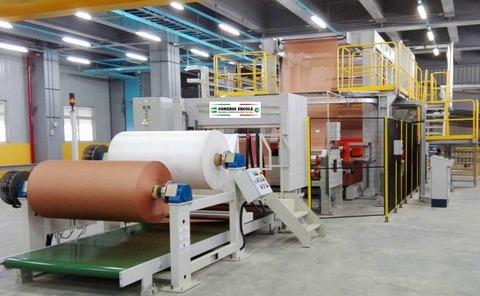 Outlook for 2022 encouraging but "not without uncertainty"
Milan, Italy – Italian rubber and plastics processing machinery manufacturers have reported a 14% growth in production for the year 2021, with value exceeding pre-pandemic levels.
The "strongly positive" balance was mainly driven by the domestic performance, where sales were up 30% year-on-year at €1.9 billion, said the industry association Amaplast in a statement.
Exports, contributing to 70% of production, also recorded a 9% rebound to €2.98 billion, just short of the €3-billion peak registered in the three years preceding the Covid crisis.
Production value for machinery, equipment and moulds rose 14.1% to €4.4 billion during the year, while imports were up 36.4% at €1 billion.
Europe remained the key destination for Italian machinery exports, contributing to 57.4% of all foreign trade, but down 1.2 percentage points compared to 2020.
Transatlantic sales, with "a significant portion" in North America, grew by 2.2 percentage points to contribute to 16.8% of exports.
Among its top 10 export markets, all but Poland and Spain, saw an increase in demand, led by Germany and the US which posted increases of 9.5% and 33%.
China, France, Poland, the UK, Mexico, Spain, Turkey and India formed the remaining eight top export destinations.
As for Russia - a key market that has shown notable oscillations over the years - Italian machinery exports witnessed a decrease of 16% year-on-year, barely exceeding €80 million.
Exports to Ukraine, which are historically more limited, were down 39% year-on-year at €7.5 million.
In terms of product categories, recovery was recorded in 2021 across most product types, from core machinery to auxiliaries and moulds.
Exports grew by 29% for injection and blow-moulding machines, by 18% for plants for mono- and multifilament, and by 6% for moulds.
In terms of market sentiment, Amaplast said its latest member survey showed a 28% year-on-year increase in demand, particularly in overseas markets, during the first quarter of 2022.
Outlook for the second quarter, it went on to say, is also characterised by optimism, as incoming orders are expected to grow by another 6-7%.
However, Ampalast said it was difficult to "venture forecasts" for the coming months as there are many factors that may influence the performance of the industry.
These, it said, include shortages in raw materials and components and the resulting increase in prices.
In addition, the recent Covid-related closure of the port of Shanghai will likely affect logistics and distribution chains.
Furthermore, the war in Ukraine has limited the supply of essential materials for various manufacturing processes and also caused energy prices to "skyrocket to levels that are unsustainable for many production chains."
"Companies thus find themselves operating in an exceedingly complicated and also paradoxical situation.
"In spite of the above issues, orders continue to accumulate and it may become complicated for many companies to fulfil them," Amaplast concluded.