Pyrum adds pelletiser at waste tire pyrolysis plant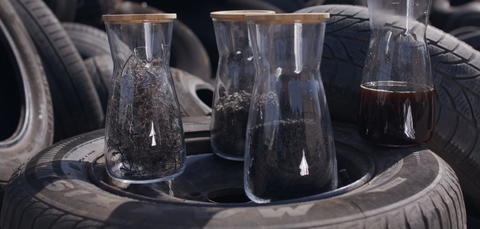 New equipment to enable production of rCB pellets for easier transport, processing
Dillingen, Germany – Waste tire pyrolysis company Pyrum Innovations AG has started trial operations on a new pelletiser at its recycling factory in Dillingen, Saar.
The machine enables the recovered carbon black (rCB) from waste tires to be bonded into pellets, increasing the transportability and facilitating the further processing of the raw material, said Pyrum in a 9 May statement.
With the pelletiser, Pyrum can now transport rCB as bulk material in trucks, eliminating the need for packaging.
The German recycler can also sell the materials to large tire manufacturers whose production processes often only allow the acceptance of rCB pellets.
In addition, with rCB coming in pellets, Pyrum said it can now increase the price of its products, which are increasingly in demand following the Russian war on Ukraine.
"Since the start of the war in Ukraine and the subsequent sanctions imposed on Russia, Pyrum Innovations has recorded significantly higher demand for its rCB," the company announcement said.
The company said since the outbreak of the war, it has received an increasing number of enquiries from industries that it did not previously have in mind as potential customers, including the paint industry and steel foundries.
With the expected commissioning of the pelleting plant this year and the ongoing expansion of its site in Dillingen, Pyrum said it expected to increase production capacity in the coming quarters.
The pelletiser has been running in test mode since Easter (mid-April) and "several hundred kilogrammes" have been sent to laboratories for quality certification, according to CEO Pascal Klein.