Conti earnings down 40% despite strong tire unit performance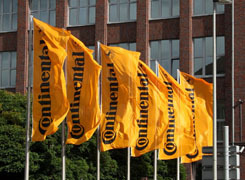 Group lowers margins forecast as automotive, ContiTech sectors face higher costs
Hanover, Germany – Continental AG has seen its first quarter pre-tax earnings drop by 39.8% due mainly to a range of 'extreme factors' such as the Russian war on Ukraine, chip shortage, Covid-19 and the increasing cost of energy and logistics.
Over the three months to end of March, group Ebit fell 39.8% to €439 million, on 8.2% higher sales of €9.3 billion. Conti announced 11 May.
EBITDA (earnings) fell 23% to €932 million while net income was down by 45% at €245 million for the period.
Conti linked the decline in performance to the weak automotive production, particularly across Europe, which led to an adjusted pre-tax loss of €204 million within its automotive segment.
Continental's tire business, however, performed strongly during the quarter recording increased sales volumes in the car tires and commercial-vehicle tires replacement business.
Segment revenue was up 20% at €3.3 billion while earnings rose 17% to €765 million. Ebit grew 25% at €558 million, while adjusted Ebit margin rose from 16.6% in 2021 to 17.1% this year.
Here, Conti said, inventory valuation had a positive effect of around €200 million on earnings due to increased acquisition and production costs.
Conti's industrial arm ContiTech saw sales increase 3.3% to €1.6 billion but "considerable cost increases for procurement and logistics" affected earnings, which fell 33% to €144 million.
Ebit was down 48% at €70 million, while EBIT margin nearly was halved at 5.4%.
During the period, Conti said the conveyor belt and industrial hose businesses performed particularly well. Sales in the drive belt and air spring replacement business also rose.
For the full year, Conti said it expected market developments to continue to be characterised by "high volatility", due higher cost of oil-based raw materials, energy and logistics in its tires and ContiTech operations.
The German group has maintained its sales forecast for the year at around €38.3 billion but lowered margin outlook to 4.7% to 5.7% compared to the previous indication of around 5.5% to 6.5% announced in March.

For the Tires group sector, Continental expects sales of around €13.8 billion to €14.2 billion, up from previous forecast of €13.3 billion to €13.8 billion. Adjusted EBIT margin is expected to come in around 12.0% to 13.0%, down from earlier indication of 13.5% to 14.5%.
The figure, Conti said, reflects a year-on-year increase in procurement and logistics costs of around €1.9 billion, which was previously estimated to come in at around €1 billion.

For the ContiTech group sector, revenue is expected to reach €6.3 billion to €6.5 billion, up from previous forecast of €6.0 billion to €6.3 billion. Adjusted EBIT margin is expected to come in around 6.0% to 7.0%, down from earlier forecast of 7.0% to 8.0%.
Here, Conti expects a year-on-year increase in procurement and logistics costs of around €600 million, double the previous estimation of €300 million.

"The past quarter was overshadowed by the war against Ukraine and its drastic effects on already high energy prices and strained logistics chains and commodity markets.
"In addition, measures to contain the coronavirus pandemic, particularly in China, had an adverse effect on economic development," said group CEO Nikolai Setzer.
In view of the multiple challenges, Setzer said Conti has taken various steps to minimise the impact on earnings.
Among others, Continental said it further diversified its raw material sources "at an early stage", built up security stocks and reorganised its value chain in the electronics sector.