Bridgestone maintains 2022 outlook amid strong growth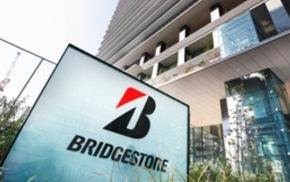 Tire maker expects price effect to offset rising cost of materials
Tokyo – Bridgestone Corp. has maintained its 2022 financial outlook as first quarter results saw double-digit growth in both sales and operating profit.
Group adjusted operating profit for the three months to end of March was up 19% year-on-year at Yen101 billion (€735 million), on 23% higher sales of Yen891 billion, said Bridgestone 11 May.
Higher sales were achieved through "strengthened selling price management" and "premium business strategy", in response to unprecedented raw material costs and inflation, Bridgestone said.
Furthermore, a rise in replacement tire demand offset a decline in the OE segment, which continued to suffer from semiconductor shortages within the automotive industry.
The tire maker saw passenger car tire sales improve "significantly" in Japan due to a "pre-buy" option offered prior to price hikes. In Europe and the US, replacement sales remained strong despite price increases.
Revenue within the passenger car tire unit increased 25% to Yen481 billion, while adjusted operating income remained flat at Yen55.4 billion. Margins were down 2.8 percentage point to 11.5%, due mainly to rising costs.
In the truck and bus segment, replacement sales increased in the US and Europe on the back of "robust construction and transportation demand". In Japan, the pre-buy option buoyed TBR sales.
Segment revenue came in at Yen220 billion, up 24% compared to 2021, while operating profit rose 3% o Yen21.4 billion. Margins also fell in this segment by 1.9 percentage point to 9.7%.
In the specialities segment, including mining, farm, aircraft and two-wheeler tires, sales were up 31% at Yen114 billion and operating profit increased 38% to Yen23.5 billion.
Segment margin was up 0.9 percentage point at 20.6% "under the tailwind of rising mineral prices".
According to Bridgestone, adjusted operating profit was positively impacted by the Yen63 billion price/mix effect and the Yen25 billion effect of higher volumes.
Currency impact and "others" contributed Yen24 billion to profits.
These, Bridgestone said, more than offset a Yen58 billion increase in raw material costs and the Yen23 billion operating expenses, which included the rise in ocean freight costs and upgrading projects at production sites.
Diversified products – including chemical & industrial business, sports and air springs business in the US – posted a revenue of Yen66 billion and adjusted operating profit of Yen3.5 billion.
Bridgestone maintained its projections for the full year saying a "favourable" price impact would "absorb almost all unfavourable impacts from raw materials".
In February, Bridgestone projected annual sales to come in at Yen3,650 billion, up 12% from 2021.
Adjusted operating profit is estimated to increase 8% to Yen425 billion, with profit margin slightly lower than last year's at 11.6%.