Interview: New chapter opens for TPVs business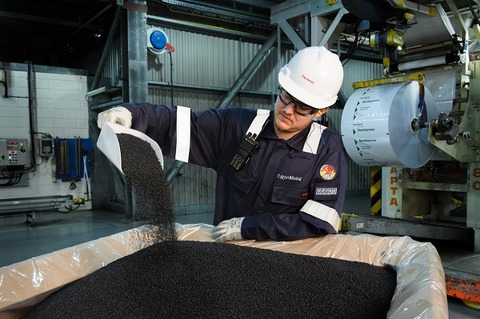 Celanese Corp. has completed the acquisition of the Santoprene thermoplastic vulcanisates (TPVs) business from ExxonMobil Corp. for $1.15 billion (Ä970 million).
The transaction significantly enhances Celanese's range of functionalised solutions into targeted growth areas such as future mobility, medical, and sustainability.
In this Q&A interview, ERJ asks Tom Kelly, senior vice president of engineered materials at Celanese Corp. about the company's plans for the TPVs market:
ERJ: What are Celanese plans for the Santoprene production facilities in Pensacola, Florida, US, and Newport, Wales, UK?
TK: With the Santoprene acquisition comes two world-scale production facilities: Pensacola, Florida, US and Newport, Wales, UK. This represents more than 190 kilotonnes (kt) annual capacity, which is approximately 40% of global TPV production.
Celanese will continue to operate these facilities and leverage the outstanding environmental, health and safety records each site has demonstrated. In our drive to advance the company's efforts to 'Work Smart and Drive Productivity,' we're looking forward to gaining new knowledge and best practices that could apply across the Celanese enterprise.
ERJ: How will the Santoprene operation be integrated with Celanese's compounding facilities in Europe, North America and Asia?
TK: The Santoprene portfolio adds scale and breadth to Celanese's existing TPV manufacturing footprint. Celanese sees future growth opportunities in Asia, with benefits of local TPV production in China (potentially adding a production line at the Celanese facility in Nanjing, China), as well as further opportunities to strengthen OEM relationships regionally in Asia and Europe.
ERJ: Which synergies and efficiencies does Celanese envisage for the combined elastomers operations?
TK: The Santoprene brand is #1 or #2 in all global regions and target industry segments, including automotive weatherseal and non-weatherseal, construction, consumer, appliance, medical, and oil & gas. These leadership positions will only benefit the Celanese brand going forward.
[This] will substantially strengthen Celanese's existing elastomers portfolio, allowing the company to bring a wider range of functionalised solutions into targeted growth areas, including future mobility/automotive, medical and sustainability.
Specifically related to Celanese's focus on sustainability, Santoprene is recyclable, weighs less, generates less waste, and is more energy efficient. As Celanese works tirelessly to minimise our environmental impact, as evidenced by our reduction in greenhouse gases (GHG), environmental releases and waste intensity year over year, the Santoprene portfolio will move us forward in these environmental targets.
The acquisition of Santoprene will bring new volume into our existing TPV plants (former SO.F.TER. facilities). We expect to realise these synergies rather quickly now that the acquisition is completed.
We believe Santoprene TPV will be complementary to our existing small-volume TPV business. ExxonMobil used third-party suppliers to produce smaller grades, and now Celanese can leverage our existing manufacturing capabilities to produce these needs.
ERJ: There is, of course, general uncertainty, but how does Celanese view prospects for TPVs and other elastomers in automotive and non-automotive markets over the next two years?
TK: Santoprene competes with rubber in most applications; however, [TPVs] are advantaged in both functionality and value versus traditional thermoset rubbers.
The TPV leverages a unique combination of thermoplastics, thermoplastic elastomers, and rubber functionality as it is lighter weight, has efficient and cost-effective part fabrication, is recyclable, has longer life, improved grip and feel, superior elastic recovery, is flexible and flex-fatigue resistant, has long-term physical stability, and has excellent dynamic properties.
Santoprene is closely aligned with many of our growth strategies as a business. Hybrid and electric vehicles are expected to gain in market share over the next few years as automakers strive to comply with regulatory emission targets.
While Celanese engineered materials are in literally hundreds of use cases in the auto industry involving powertrain, interior and exterior parts, Santoprene fills in the gaps in auto weatherability, increasing our position in the market as an industry leader with even more capabilities.
Celanese will play a vital part in the future mobility trend, and Santoprene will enable us to meet customer needs with an even more robust materials portfolio.
[There are also] many opportunities for collaboration in the medical industry, a key trend to follow over the next 10 years. It is easily mouldable, flame-retardant and recyclable, like many of our existing engineered materials, such as POM, PBT and TPE.
ERJ: What are Celanese's targets for its combined elastomers business over the next two years, particularly in China, Europe and the US?
TK: This acquisition further solidifies Celanese as one of the strongest speciality materials business setting high standards for growth, quality, performance and sustainability as Celanese's Engineered Materials business develops and delivers innovative polymer solutions to our customers to improve health, mobility and connectivity. With the transaction now completed, Celanese will be able to offer the full portfolio of Santoprene products to existing customers globally.
ERJ: Any other comments relating to the acquisition of Santoprene?
TK: This acquisition is a great example of Celanese "capturing value in growing industries" and "innovating for a sustainable future," which are two of the company's strategic areas of focus, as follows:
Capture value in growing industries: We believe Santoprene TPV represents an excellent addition to the engineered materials product portfolio by increasing our product offerings in key mega-trend areas including future mobility (auto, electric vehicles, lightweighting, etc.) and consumer goods (appliances, construction).
Innovating for a sustainable future: In addition to contributing to improving the world through vehicle lightweighting, Santoprene TPV is an excellent solution because of its recyclability as sole material or in combination with polypropylene.
In the areas of safety and environmental stewardship, the Santoprene production teams at each site have an outstanding environmental, health and safety record. In our drive for continuous improvement, we're looking forward to gaining new knowledge and best practices that could apply across the Celanese manufacturing footprint.
Finally, this acquisition complements Celanese's business goals to work relentlessly and with purpose using industry knowledge, technical expertise and agility to deliver customer value and innovative solutions.
ERJ: Thank you