ANRPC reports 8.7% growth in rubber demand in 2021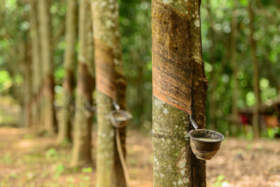 Supply increased marginally at 1.7%, as production was hit by floods in the final quarter
Total consumption figures came in at 14.079 million tonnes in 2021, as demand increased in countries such as China, India, Indonesia, Malaysia and Vietnam, said ANRPC in its full year update 9 Feb.
Despite the overall positive development, the association noted a slowdown in demand in the final quarter of the year, as December 2021 and fourth quarter recorded a contraction at 3.2% and 1.9% respectively.
Floods reported in Thailand during early December 2021 affected over 21,109 households (about 436 villages) across eight provinces in southern Thailand.
Malaysia also had its "worst ever series of floods" which affected 62,299 people, displaced in 430 evacuation centres.
"These adverse weathers have definitely disrupted the supply of raw material as number of tapping days got affected," said the ANRPC.