Thailand's Otani expanding, eyes US for growth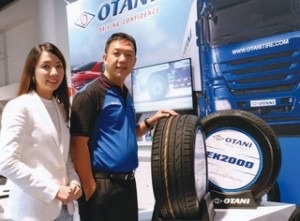 Las Vegas – Thailand's Otani Tire Co. Ltd. is looking to expand its presence in North America as it ramps up capacity at a radial tire plant it brought on stream last year.
Ekachai Limpichotipong and Orawan Limpichotipong, managing director and marketing/sales director, respectively, at Sampran, Thailand-based Otani Tire, discussed their firm's plans with Tire Business at the 2017 Specialty Equipment Market Association Show in Las Vegas.
The new plant, located a few miles from the firm's 32-year-old bias-ply factory in Thailand's Nakhonpathom District west of Bangkok, is rated at 2,500 units a day at full capacity.
The plant is operated by a separate company, Otani Radial Co. Ltd., in which Middle Eastern tire marketer Zafco International has a 40% ownership stake. As a result, much of Otani Radial Tire's output during the ramp-up phase is dedicated to the launch of Zafco's Armstrong brand.
As capacity grows, however, Mr. Limpichotipong said, Otani will be able to expand Otani-branded production, allowing the family-owned company to start expanding its international sales initiatives.
The company's focus in the past was on truck/bus, agricultural and OTR tires, but it now is broadening into the consumer sector. Otani launched the consumer tire program in its home market last September and now has four tread patterns available for passenger cars, SUVs and light trucks, according to the firm's website.
Foreign Tire Sales Inc. (FTS), the U.S. importer/distributor of the Otani brand, has been implementing a soft launch of the brand over the past year or so, according to Richard Kuskin, president of the Union, N.J.-based company, primarily with its existing customer base while it builds inventories and expands the size range.
Before launching the brand on a widespread basis, Kuskin said, FTS is working with Otani to ensure there is sufficient capacity in the key sizes for the North American market and has insisted Otani run accelerated endurance tests on the various models to ensure quality.
The partners are looking to have approximately 75 passenger tire and 30 light truck tire sizes in production before moving to the next phase of a more widespread rollout.
Otani was founded in 1986 by Kiatichai Limpichotipong, who continues today as president. His wife Saeng-arun Limpichotipong is vice president, and their offspring occupy several key positions in the executive leadership.