Conti marks start of new distribution centre project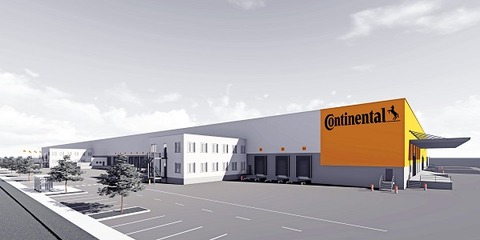 Hanover, Germany – Continental and project developer Bertram Projektmanagement GmbH have held a ground-breaking ceremony a new distribution centre near Hanover airport.
Bertram Projektmanagement is investing around €40 million into the facility and outdoor areas of the approximately 80,000 m2 site. Continental is investing more than €10 million in machinery and equipment.
As a partner in the business park project, Continental will use the centre to support ContiTech's supply of drive belts and surface materials for the automotive industry across Europe.
Growth in the automotive OE and replacement business has created a need to expand existing infrastructure, according to Philip Nelles, head of ContiTech's Hanover-Vahrenwald production plant.
"The state-of-the-art distribution center in Langenhagen offers everything we need to ensure that we are optimally equipped to manage the dynamic vehicle parts business," Nelles said in a 23 April statement about the ground-breaking ceremony.
As previously announced, ContiTech expects the "cutting-edge" distribution centre to be completed by the end of this year.
The joint, cross-divisional center will serve as a distribution point for drive belts and surface materials for the automotive industry across Europe.
A 20 Dec 2017 statement said Nelles, head of ContiTech's Power Transmission Group, would oversee the integration of ContiTech's Vahrenwald plant with the new distribution center.
The project includes a building complex with a surface area of roughly 366,000 square feet and will include 20,000 spaces for pallets and a fully-automated small-parts warehouse.
With the new center, ContiTech expects working procedures to be more efficient and to save around 5,000 truck journeys per year.
The company is predicting a maximum of 70 arrivals to and departures from Langenhagen each day. Around 160 jobs will eventually be based at the new site.
"We currently store our drive belts on seven floors. The new distribution centre, which we will operate with our own employees, will provide everything on one level," Nelles said.
The freed-up spaces, according to ContiTech, can be used for other purposes as the demand for industrial and automotive drive belts continues to grow.
Additionally, demand on the company's infrastructure also has increased as a result of the acquisition of the Hornschuch Group.
The logistics for surface materials will initially start at the end of 2018 and for drive belts at the start of 2019. Until now, Continental has used an external service provider for the storage of its surface materials.