Didi alliance eyes 10 million EVs by 2028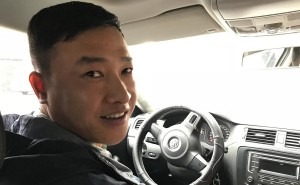 Beijing –Didi Chuxing is the force to reckon with in Chinese ride-hailing. First for locals, who can't seem to crisscross a city here without it. And now for international auto industry companies.
The ultrapopular company kicked off last week's Beijing auto show by saying it has forged an alliance of 31 auto industry companies — including Toyota, Volkswagen and the Renault-Nissan-Mitsubishi Alliance — to develop cheap, electrified vehicles for new mobility in China.
The Didi Auto Alliance's ambition befits the size of its mammoth home market.
The goal is to have 1 million electric vehicles in Didi's network by 2020 and 10 million by 2028. That's up from some 260,000 EVs in 2017. It also seeks to quadruple the number of Didi users to 2 billion people worldwide over the next 10 years. Didi has 450 million users now.
Didi CEO Cheng Wei unveiled the plan Tuesday, April 24, saying it will help position China at the fulcrum of change sweeping the global auto industry. It could also strengthen Didi's hand as it muscles in on US rival Uber in markets outside China. A day earlier, Didi announced it was entering Mexico.
"China could play a pivotal role in transforming the existing automotive and transportation structure that has been in place for over 100 years," Cheng said.
"The alliance is a gateway for our transportation industry to elevate itself from a global leader in scale to a global leader in innovation."
Didi launched its overseas service in early 2016 by introducing a roaming product that allowed Didi owners to use Lyft in the US.
Since then, it has expanded international operations to Hong Kong, Taiwan, Japan and Latin America. It also has a broad international alliance, spanning partnerships with 99, Brazil's largest local ride-hailing company; Grab, which is popular in Southeast Asia; India's Ola; and the popular European service Taxify. It also has the Middle East and North Africa covered through a strategic partnership with the local ride-hailing app Careem.
And Didi has powerful backers. Investors include China's big three Internet giants: Alibaba, Tencent and Baidu. And Apple made waves by taking a $1 billion stake in Didi in 2016.