Carlisle reports record sales for first quarter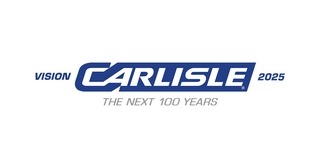 Scottsdale, Arizona – Carlisle Companies Inc. reported a record revenue of $984.7 million for the first quarter of 2018, a 27.2% increase from $774 million for the first quarter of 2017.
In its first quarter financial results, Carlisle reported increased operating income to $94.7 million, up from $89.5 million in the same period last year, an increase of 6%.
The performance was driven by savings from the restructuring and facility rationalisation actions taken across the business in 2017, and continued improvements and cost savings from the Carlisle Operating System, president and CEO D. Christian Koch said in a statement.
That performance was offset by rising freight and raw material costs at Carlisle Construction Materials, he said.
Net income rose to $309.6 million this year compared to $61.8 million for first quarter 2017, a 401% increase. Carlisle made three acquisitions in 2017: Accella Performance Materials, which generated about $430 million in sales; Drexel Metals Inc., accounting for $50 million in sales; and Arbo Holdings Ltd., worth about $14 million in sales.
By segment, Carlisle Construction Materials had the highest revenues for the period at $598.6 million, up from $446.1 million last year, a change of 34.2%.
CCM's operating income decreased to $75.8 million in 2018 from $80.7 million in 2017, a difference of 6.1%. The decline was due to about $11 million of increased raw materials and freight costs, Carlisle said.
The segment achieved record first quarter revenues despite harsh winter conditions in much of the US, according to Carlisle. Accella, acquired in October, met revenue expectations and integration activities are on track.
Carlisle Interconnect Technologies saw an increase in revenue to $224.3 million, up from $194.2 million in 2017, an increase of 15.5%. Operating income rose to $27.2 million from $21.5 million over the same period, a change of 26.5%.
The segment recovered from 2017 challenges that largely were driven by the SatCom and Aerospace markets, and an increase of $11 million due to the company's adoption of new revenue recognition standards.
Operating income improved year-over-year drive by higher volumes, COS initiatives and lower restructuring spend.
Meanwhile, Carlisle Fluid Technologies recorded revenues of $63.5 million, compared to $60.5 million in the same period 2017, an increase of 5%. Operating income rose to $5.7 million from $4.9 million, an increase of 16.3%.
Carlisle said strong growth in transportation and general industrial markets was offset by the decision to exit low margin revenue related to factory consolidations. Operating income improvement was achieved by price realisation and savings from COS.
Carlisle Brake & Friction reported $98.3 million in revenues, up from $73.2 million in 2017, a change of 34.3%. Operating income was $4.5 million, compared to $1.2 million in the same period, a growth of 275%.
The segment achieved strong organic revenue growth, reflecting a continued recovery in off-highway vehicle markets, especially key end markets of construction, agriculture and mining, Carlisle said. It delivered strong operating income growth, largely driven by volume and partially offset by costs associated with an ongoing facility rationalisation.