Sector focus: Rubber moulding machinery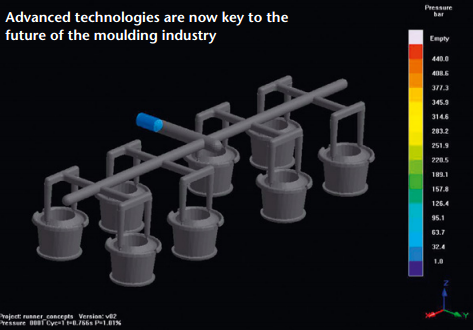 Automation technologies are now becoming a significant driver in rubber injection moulding machinery market. Patrick Raleigh reports
The global market for rubber injection moulding machines is expected to show steady growth during 2018, according to leading suppliers in the field.
"We are seeing the biggest growth in Asia, and China in particular, as well as in North America. There, the demand is increasing for all rubber machinery," a spokeswoman for Engel said.
"In Europe, the exchange of old equipment is the major growth driver. European processors are mainly investing in automated production cells," she added in a statement to ERJ.
Looking at trends in the automotive sector, the Engel representative picked out e-mobility as the strongest driver of innovation.
"The new drive concepts will create higher demand for sealings," she stated. "Furthermore, we will see totally new applications as well as new materials, or rather material combinations."
Engel has also identified the high-voltage products sector as a good growing market, in combination with the construction industry. It also sees further growth markets in the area of LSR, such as medical applications.
Asked about the technical challenges facing rubber moulding machinery manufacturers in 2018, Engel's spokeswoman pointed to the need to optimise energy consumption in combination with waste reduction.
Another issue, she stated, was the development of automated cells that delivered improved quality, process stability and energy-efficiency, as well as reducing labour costs.
Developers at Engel are also working with new and more expensive materials, such as HCR rubber and FFKM, which require new technologies to feed and process the materials efficiently.
"This [R&D work] will lead to special injection units and higher performance machines," according to the spokeswoman for the Austrian machinery company.
Reliability and availability of machines and equipment, she added, are, meanwhile, becoming increasingly crucial: "Therefore, we have to guarantee fast on-site service in all parts of the world and provide online support and qualified remote maintenance as well as condition-based, predictive maintenance systems."
High level
For his part, Peter Radosai, sales director Europe at LWB Steinl GmbH believes the market for rubber injection moulding machines world-wide will remain stable on quite a high level.
In terms of growth, Radosai reported "a slight movement in the market, [with] a slight decrease in the US but at the same time a stronger EU market. In Asia, we still feel increase and growth of the market."
Automation is a key topic for LWB, according to the Altdorf, Germany-based company's sales director.
"Pushed by the discussion about Industry 4.0, the aim is to generally increase automated production," said Radosai. "This development cannot be limited to individual applications, but we see it as a common trend."
Customers now, he added, increasingly require "injection moulding machine manufacturers who can cover [automation] completely."
With regard to challenges facing rubber moulding machinery makers in 2018, Radosai said a particular issue was around managing "the balancing act between inexpensive standard machines and high tech, automated machines."
Recent projects at the Fridingen, Germany-based Desma include expanding the production areas at the company's locations in Germany, establishing a mould shop in China and the acquisition of a fourth milling centre in Slovakia.
Desma has also invested €2.3 million in a combined turning and milling centre with robot automation for the Fridingen site, managing director Martin Schürmann also highlighted at a customer open-day last September.
Desma's 'investment volume' of €7.5 million for 2017/2018 has also included a spend of around €1.5 million to expand the company's SmartConnect4u product range and internal digitalisation, he added.
Going forward, Schürmann said, Desma's investment strategy would target flexibility, high availability, one-piece flow, quality requirements, know-how protection and cost-control.
Austria-based Maplan, which has a five-year goal is to achieve a turnover of €72 million, started producing machines for the Asian market in China last September, while components and assemblies are now being pre-manufactured in a new plant in Slovakia.
"Economic forecasts for Austria recently had to be corrected upwards, and Maplan is already feeling this movement in its figures," said a company statement. "New employees are being hired and investment increased."
Article published in the March/April issue of European Rubber Journal magazine