Pirelli unveils 'cyber car' technology in Geneva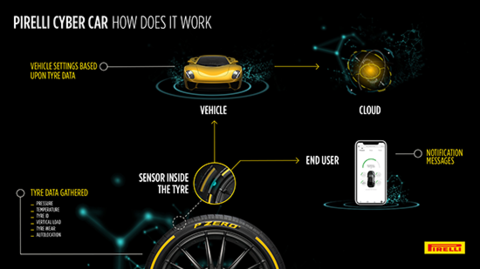 Geneva, Switzerland – Pirelli & C. SpA has unveiled its latest technical achievement, called Cyber Car, at the 88th Geneva international motor show, 8-18 March.
The new original equipment system, which has been developed in cooperation with car-makers, involves a sensor that enables interaction between the tire and the car.
According to the Italian tire-maker, the technology is already being tested by "the major car makers" and will be on the market by the yearend – on electric and traditional models.
Describing it as a 'step forward in digital revolution', Pirelli said the technology captures the tire's functional parameters, including pressure, internal temperature and tread depth, and transmits them to the on-board intelligence.
The system can then adapt ABS and stability control tools for a safer drive and better performance.
Cyber Car is the latest application of Pirelli's 'cyber technologies' platform, which it launched in 2002.
It follows on from the 'cyber fleet' system, designed for fleets, and Pirelli Connesso, intended for everyday motorists.
While Pirelli Connesso uses a sensor to talk directly to the driver, and 'cyber fleet' speaks to fleet managers, cyber car talks to both car manufacturers and drivers at the same time, Pirelli added.
Connesso is an integrated tire platform in which a sensor is embedded in the tread groove and connected via an app with the driver to provide information.
According to Pirelli, Connesso, which was launched last year on the American market, is about to debut in main European countries.
All of Pirelli's cyber systems are based on a sensor placed on the inside of the tire connected to the Pirelli Cloud.
The next evolution, according to Pirelli, will be the cyber tire system which promises collecting "even more data" and transmitting them to the car's on-board systems.
Cyber tire technology is not "on sale" yet, Pirelli said, but an initial application is already in action on the Ferrari FXXK, a1000-horsepower development hypercar that is only for track use.