KraussMaffei Berstorff targets rubber extrusion scrap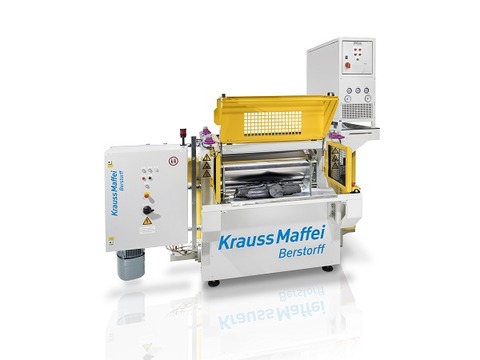 Hanover, Germany – At TTE 2018, KraussMaffei Berstorff is showcasing its new CompoundRework system 1000 for processing scrap material generated during rubber extrusion processes. It is said to offer ease-of-operation and be suitable for a wide range of different materials.
Most extrusion processes inevitably involve the production of a certain amount of recyclable scrap, according to Joachim Brodmann, key account manager at KraussMaffei Berstorff.
The, he said, includes "residual material that remains in the extruder or in the extrusion head in the event of compound or extrusion tool changes. In order to maximize added value, tire producers strive to recycle this scrap material by returning it to the production process."
The CRS 1000 processes large-volume rubber residues removed from the flow channels as well as start-up scrap converting the material into sheets or strips with a thickness of 8 mm.
This means that 100% of the residual material can be returned to the production process., according to KraussMaffei Berstorff.
The system is equipped with two (optionally) heated rolls and a hydraulically adjusted roll gap. It can be fed with residual material of various sizes up to a width of one meter. The feeding unit with automatic intake gap is equipped with all required safety features to minimise the risk of personal injury.
Simplified control of the complete line enables one-man operation, which gives easy machine handling and enhanced operational safety, according to the company.
Live demonstration: On 20 Feb at 5.30 p.m., interested visitors to the fair will be given the opportunity to experience a live demonstration of the CompoundRework system 1000 on the KraussMaffei Berstorff premises. They will be able to witness first-hand how easy it is to recycle production scrap and convert it into strips and sheets.