Comment: Italian machinery makers gain technology edge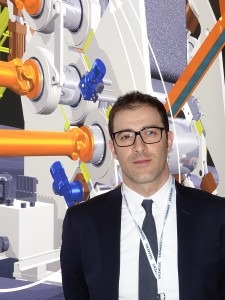 Rodolfo Comerio sales and marketing manager Nicola Fedele reviews the current developments within the Italian rubber machinery sector and the latest technical developments at his company, ahead of its participation in the Tire Technology Expo 2018 in Hanover, Germany:
In particular, the country's rubber machinery companies benefited from allowances under Italy's National Industry 4.0 support plan for investment in technological innovation and R&D.
This policy is massively helping Italian companies to meet the new challenges set by the digital revolution.
For example, Rodolfo Comerio had close collaborations with different tire manufacturers located in southeast Asia in 2017.
Tire makers in this region are getting more and more interested in acquiring Italian machinery and know-how to improve the quality of their products.
Rodolfo Comerio is also studying new solutions in cooperation with the major European tire manufacturers to enhance production and deliver cost-savings. These solutions together with the new calendaring technology will be the leitmotiv of rubber calendering in 2018
This year, so, will be very important for Rodolfo Comerio as we celebrate 140 years of history and we will be fully engaged with initiatives aimed to spread our knowledge worldwide.
We plan as well to reap the benefits coming from our newly patented technologies and from our recent investments in R&D.
Furthermore, at the beginning of the year our new advanced managing software became active . This will enhance our value-chain by using an holistic approach across the entire business process.
At Tire Technology Expo 2018, Rodolfo Comerio is mainly focused on the tire industry and we are launching new patents for rubber calendering technology
Other introductions lined up for Hanover include; a newly conceived predictive maintenance software and sensors; a complete training course for maintenance and for calendering operations; and an advanced safety system including remote assistance and augmented reality for the connectivity with the operators on machines in real time with ticket reporting and problem-solving.
Furthermore, we will introduce our implementations for the hydraulic shifting of calender rolls with gap-control and pressure-control at the same time, granting the highest repeatability and accuracy available in the calendering field.