Yokohama develops "world largest" floating fender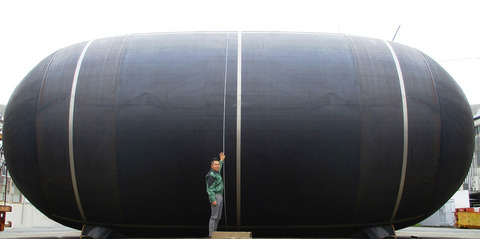 Tokyo – Yokohama Rubber Co. Ltd has developed the "world's largest floating pneumatic rubber fender," with a diameter of six meters, the company announced 24 Jan.
The fender is designed to be used at offshore cargo transfer operations of liquefied natural gas (LNG) from LNG-FPSO (Floating Production, Storage and Offloading system) to LNG tankers.
Demand for LNG-FPSO is expected to increase as demand for LNG rises, according to the Yokohama release. LNG-FPSO, it added. must be capable of efficiently and safely offloading LNG stored at a temperature of around −160? to LNG tankers.
The newly developed ultra-large fender is said to increase the safety of offloading operations by enabling the LNG-FPSO and the LNG tanker to maintain a greater distance apart than that with previously existing fenders.
The fender is also expected to be used in enhancing safety during construction of large marine structures and other offshore construction work, said Yokohama.