Ergon investing in rubber oils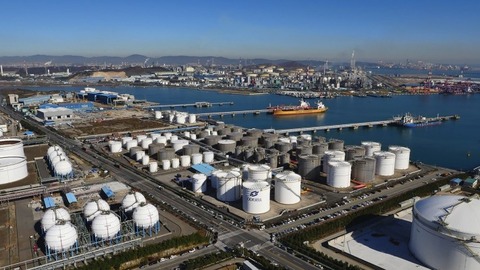 Jackson, Mississippi – As opportunities for naphthenic speciality processed oils grow in the rubber industry, Ergon Inc. is investing to capitalise.
The firm recently added a new bulk storage tanker in Ulsan, South Korea, along with a regional sales office in Singapore to better serve the Asia-Pacific region.
The expanded tanker will allow for storage of many of Ergon's processed oils, including HyPrene L2000 and HyPrene V175BS designed for the tire industry.
"It's made a significant impact to our business," said Lance Puckett, senior vice president of global lube sales. "Volume through the region for us has picked up significantly. Our list of good opportunities continues to grow and we're really excited about the future in Asia.
"We have put a very capable sales force and customer support team in Asia to facilitate that growth. So much of our business is servicing the customer. To do that effectively, you have to have product, but you also have to have a good, qualified team to meet the expectations of the customer there."
Puckett said Asia is the largest tire market in the world, which has driven the demand for oils like HyPrene L2000. He added that naphthenic oils have an advantage in green tire applications, something that has increased in China thanks to a 2010 European Union law that banned aromatic extract oils.
While China doesn't have the same law, there is a solid part of the tire industry that exports to Europe. Those tires need to be in compliance with the EU law.
If Asia were to follow suit, though, Puckett said demand would grow substantially.
"If the Asia region is going to ship tires into Europe, it has to use process oils that meet the EU standard for cleanliness," Puckett said. "But that's only a small percentage of the overall Asia tire market. When Asia requirements move to green tire production, it will have a big impact on the process oil demands. We have the staff and product ready to provide the high-quality process oils that the region will need."
Puckett said another trend facing the rubber industry with regards to processed oils is the continued evolution of Group I production – oils that are classified as less than 90 percent saturates, greater than 0.03% sulphur and contain a viscosity index range of 80-120.
He added that if the trend of moving away from Group I production continues, it would result in more opportunities for naphthenics.
"The rubber industry is absolutely a target market segment for us," Puckett said. "We've had a lot of success in the past based on our exceptional security of supply, customer service and high-quality products.
We continue to bring on new customers in the rubber industry, whether it's in synthetic polymer, tire oils or EPDM applications. As regulations continue to change and the need for clean products evolve, naphthenics will definitely continue to be a favourable option for the process oil market."