Magna starts tire production at Dutch site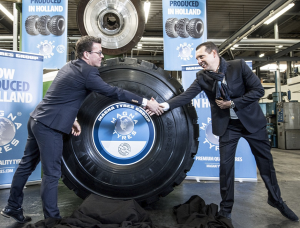 Hardenberg, The Netherlands – Magna Tyres Group has officially started tire production at its OBO Tyre factory in Hardenberg, the company has announced.
During a launch event on 11 Jan, group CEO Michael de Ruijter unveiled the first 'made in Holland' tire in the presence of global press and customers.
The start-up was an important development for Magna Tyres, according to de Ruijter, noting that the company is struggling to keep up with growing demand for its products worldwide.
"We have invested heavily in the factory and can significantly expand our production capacity to meet the rising demand," he stated.
The CEO added that further investments "are already made in order to increase press capacity even further."
In his comments, Peter Schrijver, general manager of OBO Tyres, acknowledged that some people might question if it was economically viable to produce new tires in The Netherlands.
But, he explained: "Our efficiency, lower transport costs and lower import duties make it very cost-effective to produce locally and to invest in more production capacity.
"From now on Magna MA02, M-Terrain and AG24 are available as a made in Holland product and we are very proud on this achievement."
Waalwijk-based Magna Tyres describes itself as a privately held manufacturer of OTR, industrial and truck tires, with manufacturing contracted out to tire makers in China and Taiwan, but its design and engineering staff is based in Europe.
A year ago Magna acquired OBO Tyres, a Dutch retreader specialised in agricultural and OTR tires and related repair services, with one factory in Hardenberg, about 160km east of Amsterdam on the border with Germany.
OBO Tyres was founded in 1959 in Beerzerveld, Holland. It moved in 2006 to Hardenberg and later added a second location, in Leipzig, Germany.
Magna supplies solid and pneumatic tires for off-the-road applications, ranging from forklift and skid-steer tires to dozers and articulate dump trucks, along with agricultural and some over-the-road trucking.
Sizes range from 12-inch rim applications in the skid-steer/forklift category up to 57-inch diameters for construction equipment.