Continental mulls options for major reorganisation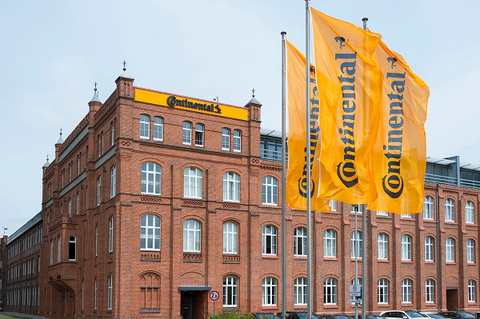 Frankfurt, Germany – German automotive and tire supplier Continental AG has confirmed that it is in "early stages" of talks about a structural overhaul in a bid to increase agility as new and disruptive technologies become increasingly dominant in the car industry.
"We confirm media reports that we are in the early stages of analysing how our organisation can become even more flexible in response to the fast changing environment in the automotive industry," said a group statement issued 9 Jan.
"In this process we are being supported by external advisors," Continental stated. "As of today, it is wide open if and which changes could result from these early evaluations. To date, there are no plans which could be submitted for approval."
A company spokesman declined to comment on ERJ's enquiry about the implications, if any, for the group's tire and rubber businesses.
Under scenarios being discussed, Continental could create a holding company for its divisions and then list shares of the more profitable units, such as the tire business, or combine some operations with rivals, sources told Bloomberg. The review remains at an early stage, with no decision on whether the changes will be carried out, they said.
A reorganisation at the component maker would come at a time when the industry is faced with a momentous shift to electric and self-driving vehicles. Other companies including Daimler and suppliers Delphi and Autoliv have also carried out recent changes in the way they are organized.
Any move by Continental will need the blessing of the Schaeffler family, the largest shareholder with a roughly 45% stake. At the height of the financial crisis in 2008, the ball bearing and powertrain-manufacturing company nearly went bankrupt when its €17-billion takeover approach for Continental backfired.
Continental, which has forecast more than €44 billion in annual revenue, has two main divisions. The automotive unit makes chassis and safety parts as well as interiors and large powertrains, while the rubber business combines the company's namesake tire brand and ContiTech, a maker of conveyor belts for off-road vehicles such as snow mobiles.
Untangling operations with little or no overlap has emerged as an industry trend, with Daimler saying in October it would create a holding company for its three separate units by 2019. Earlier in 2017, Delphi and Autoliv both moved to split in two parts to give electronics and self-driving car activities more flexibility.
Delphi early last year held talks with Continental on a potential tie-up of their powertrain divisions, people familiar with the matter told Bloomberg News at the time.
Investors generally embrace breakups like the ones at Delphi and Autoliv, Sanford Bernstein analyst Max Warburton said in a note in November, adding that Continental's shareholders should push for a similar change.
"We've previously made calls for Conti to split itself up, arguing that its numerous divisions do not sit well together," he wrote.
Continental ranks No. 5 on the Automotive News Europe list of the top 100 global suppliers with worldwide original-equipment automotive parts sales of $32.6 billion in 2016.
Reuters and Bloomberg contributed to this report