Going Underground: NR mat is fire-safety "first"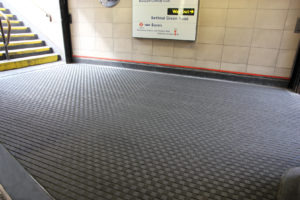 The development project, for Entrance Matting Systems Ltd, involved close cooperation by specially selected partners across the supply chain, said a VIP release.
The material, it stated is "the first natural rubber-derived compound to meet the requirements of the EN 45545-2 (2013) fire retardancy standard for the floor composite category."
It is also the first natural rubber-derived compound to meet London Underground's own standard for floor matting, which is based on EN 45545-2(2013).
The rubber was compounded by the Tun Abdul Razak Research Centre (TARRC), the UK-based research and promotion centre of the Malaysian Rubber Board.
It is mixed by BD Technical Polymer Ltd, in Corby, Northamptonshire, and then moulded by VIP at its factory in Huntingdon, Cambridgeshire.
The entrance mat is already in use in 18 stations across the London Underground network, said VIP, which is better known as a manufacturer of seals and gaskets.
The fire-retardant used made the rubber a "demanding material" to work with throughout the development and production process, noted Peter O'Connor, technical services manager at VIP.
"In particular, its consistency made it challenging to mould, while retaining the finish quality needed," he said.
In dealing with these challenges, VIP applied its expertise as a rubber compounder, a mixer and as a manufacturer.
"This allowed us to see the product's potential, and gave us the confidence to work with our partners in the process," said O'Connor.
"It wasn't always straight forward, but everyone involved could always see the light at the end of the tunnel," he added.
The material was developed by the head of TARRC's industrial support unit, principal scientist Dr Marina Fernando, specifically for the rail industry.
Previously, the only rubber matting that met London Underground's fire retardancy standard has been synthetic, she pointed out.
"In a six-month trial at one London Underground station, our natural rubber-based compound proved to be significantly harder wearing than synthetic rubber alternatives," said Fernando.
BD Technical Polymer used its expertise in compounding and blanking to ensure rubber mixing cycles and blank production were precisely aligned with the requirements to produce the matting in a multi-cavity mould on VIP's 1,000-tonne 3.5m strip press.
"The high quality of the final product, which has to withstand what must be among the highest mass transit footfalls in the world, could only be achieved by everyone working together and being on top of their game," Deepak Shah, BD technical polymer director commented.