ERJ snapshot of natural rubber prices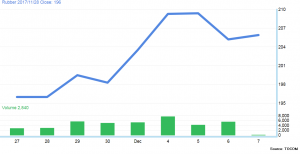 London – A fire at a major Chinese warehouse for storing natural rubber (NR) (see report) seems to have sparked a rally in prices across the main Far East trading centres (see report).
The incident on 1 Dec, seemed to spark action by buyers in an NR market already concerned about export cuts by the main producing countries and weather-related disruption in some growing regions.
On the Shanghai Futures Exchange, spot prices for RU1801, the most heavily traded NR future – increased to Yuan14,220/tonne on 5 Dec, 5% above its closing price on 30 Nov.
Japan's TOCOM followed a similar pattern on 6 Dec with rubber contract deliveries for May closing over ¥10 at 209.3/kg, compared to the spot price of ¥199.5/kg on 30 Nov.
In Bangkok, spot prices for RSS-1 jumped over 3% to $165.45/100kg on 4 Dec, compared to $160.40/100kg at the end of last month. Prices for RSS-3 also rose to $161.95/100kg, again lifting by over 3% compared to the end of November.