Trelleborg, Chinese partner to study marine infrastructure design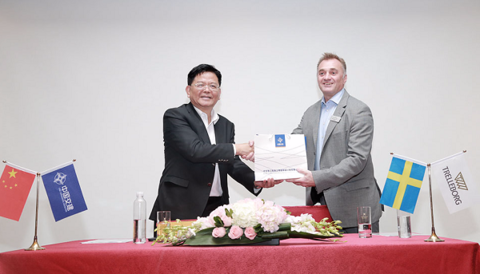 Shanghai, China – Trelleborg's marine systems operation has signed a memorandum of understanding (MoU) with Chinese firm Third Harbor Consultants Co. (THCC), to work on marine and port transport designs.
The MoU was signed on 6 Nov with THCC, which is a large survey and design firm in transportation and port engineering, and a subsidiary of the state-owned China Communications Construction Co. (CCCC).
The joint collaboration will see the two companies co-authoring mooring and infrastructure design whitepapers.
It will also provide the potential for the co-development of new marine technologies to support the development of China's ports and vessels, Trelleborg announced 30 Nov.
THCC will also trial Trelleborg's AutoMoor system across a number of its upgrade projects as part of this partnership.
AutoMoor is a rope-free, automated mooring system that uses smart technologies to enable faster berthing and improve safety levels.
"This will enable theoretical and empirical studies of mooring analysis versus actual site performance," Trelleborg added.
Commenting on the partnership, Richard Hepworth, president of Trelleborg's marine systems operation, said competition was increasing within ports and broader alliances between shipping lines were being established.
"The Chinese market is incredibly important to Trelleborg. We look forward to working closely with THCC and learning more from them about where our product development should focus in order to best meet the needs of China's world class ports as they continue to evolve," he added.
Prior to the signing of the MoU, Trelleborg hosted a technical seminar in Shanghai in September giving THCC consultants and engineers an overview of AutoMoor and its wider SmartPort portfolio.
SmartPort is a technology platform developed by Trelleborg to offer a standardised way to collect and store data.