NR prices remain low despite supply concerns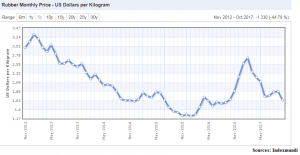 London – Natural rubber prices remained weak in November, although a shortage of supply as a result of heavy rains was expected to push up the prices in global markets.
On the Shanghai Futures Exchange, prices for RU1801 – the most heavily traded NR future –  stood at Yuan13,505/tonne on 30 Nov.
The futures price was just slightly little below the 13,595/tonne recorded for RU1801 trades at the beginning of the month.
There were, though, some significant price movements during the month. Prices for the SHFE rubber future fell to 13,270/tonne by 16 Nov, before recovering to start-of-month levels.
Similarly, on Japan's TOCOM exchange, back-month prices for RSS3 materials continued to remain flat at ¥199.5/kg on 30 Nov, compared to ¥199.5/kg for the week ending 25 Oct.
While a small pick-up was observed in Tokyo during the second week of November, prices hovered around the ¥190 mark during the month of November.
In Bangkok, spot prices for RSS1 grades on 30 Nov stood at $160.40/100 kg, 1% down compared to $162.85/100kg at the end of October.
RSS3 performed slightly weaker on the Thai exchange, posting a 5% decline at $156.85/100kg, compared to $164.80/100kg on 31 Oct.
In Kuala Lumpur, prices for SMR-20 inched 1% up, at $139.70/100kg at the end of Nov, compared to $137.65/100kg on 31 Oct.
Malaysian SMR-20 prices did rally up to $145.30/100kg in the first week of the month, before tracking downward.
Latex performed better in Kuala Lumpur, closing nearly 7% up at $118.90/100kg on 30 Nov, compared to $111.25/100kg at the end of October.