Slump in Chinese TBR imports to India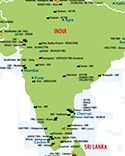 New Delhi – India's import of Chinese truck & bus radial (TBR) tires has declined by more than half, the New Indian Express has quoted an official of the Automotive Tyre Manufacturers Association as saying.
According to the report, ATMA chairman Satish Sharma linked the imports decline to a "demonetisation drive" launched a year ago in India and anti-dumping duties on Chinese TBR tires this September.
Chinese tire imports, Sharma said 25 Nov, stood at 1,500,000 units in May 2016, whereas the figure is 50,000 units 'presently'.
In September, as reported by ERJ, the Indian government levied anti-dumping duties of over $450/tonne on new TBR tires imported from China.