NR prices support double-digit growth at SIPH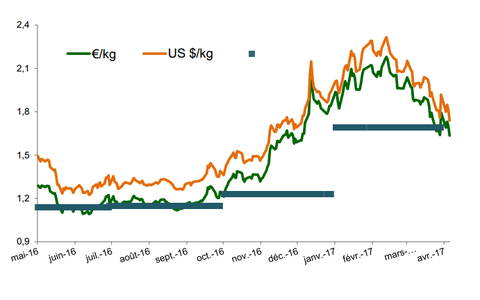 Paris – Société Internationale de Plantations d'Hévéas (SIPH) has posted double-digit growth in year-to-date sales – reflecting a steep rise in natural rubber prices compared to last year.
For the three months to 30 Sept, the Michelin-owned company achieved an 18.4% rise in sales to €89.2 million compared to the same quarter last year.
Of that amount, €84.2 million related to sales of natural rubber, SIPH reported 15 Nov. This, it said, was 20.9% higher than in last year's third quarter.
For the first nine months of this year, the company posted a 47.4% year-on-year rise in sales of natural rubber to €248.7 million.
The year-on-year gains were despite prices falling from a peak of $2.32/kg in mid-February to $1.54/kg in the third quarter of 2017, said SIPH.
Natural rubber prices have since continued to fall, averaging $1.45/kg this October, the French supplier noted.
In terms of volumes, sales grew 3.5% to 62.7 kilotonnes (kt) in the third quarter of 2017.
For the first nine months, the company posted a total volume increase of 6.3% to 161.0kt.
SIPH noted a 16.8% increase in price per unit of natural rubber at €1.34/kg during the third quarter, up from €1.15 in the same quarter in 2016.
For the nine months, the price increased 38.7%, averaging €1.54/kg compared to €1.11/kg in 2016.