Lessons from the past: Using a telephone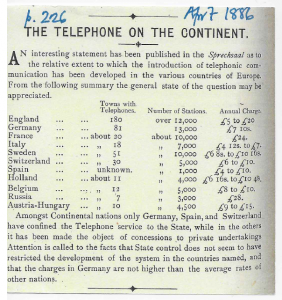 London - For anyone unhappy with the cost of their phone bills today and the service-coverage they receive, the following ERJ report from 1886 might offer some sense of perspective,
In Europe, back then, there were just around 10,000 telephone 'stations' in industrialised countries such as Germany, England, France and Sweden.
The annual cost of this service ranged from around £5 up to £24 - equivalent to £350 to £1,680 in terms of purchasing-power in today's money.
Nevertheless, it is interesting to note how widespread the usage of  the telephone seems to have become, just 10 years after Alexander Graham Bell patented his invention of an 'apparatus for transmitting sounds telegraphically'.