Russian automotive parts exports set to increase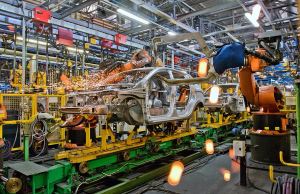 Moscow, Russia - Between 2010 and 2014, the manufacture of rubber & plastic automotive parts in Russia almost doubled.
Global automakers operating in Russia have significantly increased exports of their rubber & plastic automotive parts abroad in recent years.
And according to a recent report by the Russian Ministry of Industry and Trade as well as manufacturers' statements, car part exports will continue to rise over the coming years.
Between 2010 and 2014, the manufacture of rubber & plastic car parts in Russia almost doubled, mainly as a consequence of the burgeoning local automotive market, which was reflected by the growth of car sales in the country.
However, as the economic crisis took hold in Russia, local demand for rubber & plastic auto parts plummeted, and, with the collapse of the domestic market, leading producers turned to focus on exports.
Most exports relate to car components produced in Russia by global car makers, who are supplying the parts to their foreign plants; mainly those located in Europe.
For example, Ford Sollers, a joint venture of Ford and the Russian auto producer Sollers, has commenced delivery of plastic car parts from Russia to Romania, where the production of its EcoSport crossover recently started.
Also, Renault has expanded exports of its Russian-made parts to Algeria, where it has started producing its Logan model, by almost 40% over the past several months.
Analysts say that the rise in volume of exported rubber & plastic car parts is thanks to the improved quality of Russian made parts. The trend has been helped along, they say, by the devaluation of the Russian ruble, which has made it cheaper to produce plastic auto parts in Russia than in the EU.
Hau Tai-Teng, vice president of purchases of Ford Motor Company, said the company plans to triple exports of Russian-made plastic car components to Europe within three years. Similar moves are being considered by other global automakers with production sites in Russia.
Analysts of the Russian Ministry of Industry and Trade predict that total exports of automotive components from Russia abroad could grow by almost 5% to $2.3bn (€1.9bn) next year, of which almost 60% will be plastic auto parts.
In terms of volume, this will amount to 300,000-400,000 tonnes per year.
A spokesman of the Russian Minister of Industry and Trade, Denis Manturov believes these figures may be 3-4 times higher by 2020-2021. Much, however will depend on the situation in the domestic Russian automotive market and performance of the ruble.
In the meantime, the Russian government plans to stimulate exports of Russian-made automotive components, by subsidising a portion of the manufacturers' logistics costs.
According to the Russian Export Centre, this year some RUB 6.6bn (€94.7m) were allocated for the compensation of costs, associated with the delivery of Russian-made plastic auto parts out of Russia. The state will compensate up to 80% of the cost of transportation by land and 50% by sea, as well 100% of the costs of their certification and adaptation.
Local producers of plastic auto components have said that exports would be even higher if the import duties levied on Russian auto parts in some countries were abolished.
In Vietnam, for example, one of the major destinations for Russian plastic auto parts' exports, these range from 30 to 70%; import duties on Russian made parts in Ethiopia and Egypt are similarly steep – while EU companies are charged far lower rates.
Producers have called on the Russian government to start talks with the governments of these countries to lift or at least lower these duties by the end of the current year.