Hexpol profits dip despite higher sales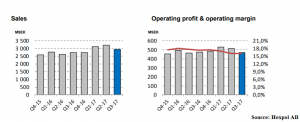 Malmo, Sweden – Hexpol AB has posted a 1% year-on-year drop in operating profit, to SEK470 million (€47.1 million), on third quarter sales 7% higher at SEK2,936 million.
Sales growth, adjusted for currency effects and acquisitions, grew 4% during the three months, compared to the same period last year. 
Similarly, exchange rate fluctuations had a negative impact of SEK23 million on operating profit.
At Hexpol's Compounding business, sales rose 7% to SEK2,713 million during the quarter, with operating profit slightly lower than the previous year's quarter at SEK441 million.
Despite a 6% increase in sales to SEK223 million, Hexpol's Engineered Products business unit's operating profit fell 6% amounted to SEK29 million. 
Sales in Europe – which included the Trelleborg Material & Mixing Lesina business acquired in March – increased 18%, compared to the previous year.
Commenting on the third quarter results, Mikael Fryklund  president and CEO of Hexpol AB, said the prices on the company's main raw materials were stable while price pressure "continued strong on all markets."
Sales to automotive related customers were "still good" and improved to customers within engineering and general industry, added Fryklund.