Beaver, Mehler to partner in Europe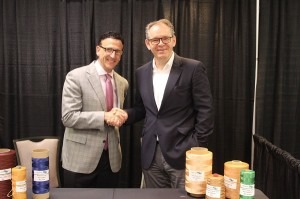 Fairlawn, Ohio – Beaver Manufacturing Co. Inc. and Mehler Engineered Products Group have entered into a partnership where Mehler will represent Beaver's rubber reinforcement products line in Europe beginning next year.
Mansfield, Georgia.-based Beaver makes industrial fibre for the reinforcement of hose and mechanical rubber. It specializes in performance-enhancing treatments for adhesion and improved processing on spiral knitting and braiding equipment.
Effective 1 Jan, Mehler in the first phase of the cooperative agreement will take over the sales, service and distribution of Beaver Manufacturing products in Europe.
The partners then plan to extend the cooperation into local, customized development and manufacturing of Beaver's products by Mehler at a later date, but probably sometime in 2018, executives from the two firms said. Mehler, headquartered in Fulda, Germany, has six global facilities, three in Europe, and one each in North America, China and India.
The partnership was announced 24 Oct by Michael Dubin, Beaver senior vice president and chief operating officer, and Joerg Czempisz, Mehler president and CEO, during the Hose Manufacturers Conference in Fairlawn.
"As the demand for our products has increased in the European market, we began to look for the best way to meet our customer needs," Dubin said. "This partnership brings our products one step closer to the end user."
Czempisz said there is very little overlap between Beaver's and Mehler's product line. Beaver is a leading converter of hose yarn reinforcement, while Mehler is a top global converter of textile rubber reinforcement solutions. He said the partnership will expand the firm's portfolio of products it can offer to its European customers.
"This newly formed strategic partnership will position our company in offering RFL-, RF-free and isocyanate-based product solutions to our customers as a one-stop shop," Czempisz said. "Our unique position within the markets we are serving will enable us, as organizations, to get to the next level of customer care by further reducing time-to-market and total cost of ownership."
The two executives said the firms have been involved in discussions for the past 18 months that led up to the partnership announcement. They didn't say what their goals are in terms of increasing sale of Beaver's goods in Europe, but Dubin did say his company gains 80% of its revenues in North America and just 5% in Europe.