Conti 'on schedule' with US tire plant construction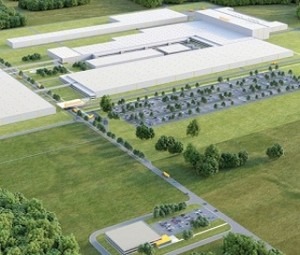 Clinton, Mississippi – Site clearing for Continental AG's $1.4-billion commercial truck/bus tire plant near Clinton is nearly finished, Continental officials said this week, keeping the project on schedule to begin tire production by year-end 2019.
Since Continental broke ground on the factory in November 2016, contractors have cleared 700 acres, moved more than 4 million cubic yards of earth, built four retention ponds and installed 14,000 feet of under-drain piping and 12,000 feet of reinforced concrete pipe up to 72 inches in diameter.
Workers recently started the process of driving foundation pilings, the company told local media in a briefing at the site.
Brad Cole Construction of Carrolton, Georgia., was hired to oversee the site clearing.
In addition, Conti officials said construction of a training center will begin this fall, and construction of the 840,000-sq.-ft. structure for the commercial vehicle tire plant should start in early 2018.
The plant is projected to produce 750,000 truck and bus tires annually in the first phase, Conti said, starting with approximately 500 employees. Full projected employment of 2,500 won't be reached until 2028.
Conti has filled a handful of key positions, including: Project manager, Michael Egner; senior staff engineer/construction manager, Zach Morrow; lead accounting specialist, Sharon Zillinger; communications specialist, Quita Bride; and head of plant controlling, Alexander Meier.
More widespread hiring for factory positions will begin next October. Conti is working with Hinds Community College in its recruitment and training.