Tire makers see results dip as materials costs bite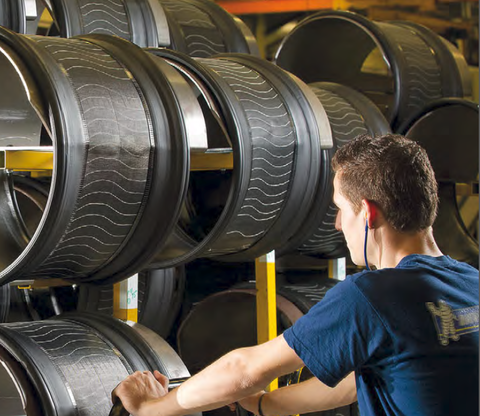 London – Major tire makers in Europe, and elsewhere, have seen first-half results dip over the first six months of this year, as a hike in first-quarter sales subsided in the following quarter.
In France, Groupe Michelin's passenger car tire sales in the second quarter of 2017 was dampened by heavy buying in the first quarter ahead of planned price increases.
For the six months to 30 June, Michelin registered a stable operating income at €1.4 billion, and net income of €863 million, up 12% compared to the same period in 2016.
Another leading European player, Continental also saw higher raw-materials costs denting a strong first half at the rubber division of the Hanover-based company. While sales in the first six months of 2017 at Continental's Rubber Group grew 8.9% to €8.6 billion, the adjusted EBITDA fell from €1.8bn to €1.69bn.
The unit was hit by higher raw-materials costs – particularly for natural and synthetic rubber – that reduced earnings by €300 million.
Goodyear Tire & Rubber's half-year results in Europe, Middle East and Africa (EMEA) saw significant decline again reflecting the impact of higher raw materials' costs and increased competition in the replacement tire segment.
Year-on-year sales in EMEA fell 6.3% to $2.4 billion (€2.0 billion) in the first six months of the year, while the region's operating income declined 23.2% to $175 million, Goodyear noted.
Globally, Goodyear's sales fell 2.4% to $7.39 billion with operating income down 21.3% at $746 million.
Pirelli, which gave half-year results of its PCR business ahead of a scheduled IPO in October also registered strong growth with revenues up 10.6% at €2.68 billion in the six months to end of June.
Adjusted earnings (EBITDA) was €546.4 million, 3.1% higher than in the first half of 2016.
Bridgestone Corp.'s operating income for the half-year fell 7.3% to $1.8bn, despite 5.8% higher sales at $15.5 billion. The world's largest tire manufacturer blamed increasing raw materials costs for the earnings decline over the first six months of this year.
Bridgestone's tire division reported similar results – operating income down 6.7% to $1.65 billion on 6.4% higher sales of $12.8 billion.
Sumitomo Rubber Industries Ltd. (SRI) suffered double-digit drops in operating and net income for the quarter and half-year ended 30 June. For the half-year, SRI's operating income fell 27.1% to $188.9 million and net profit decreased 31% to $110.6 million. SRI cited the "soaring prices" of raw materials for the drops.
Driven by solid growth in its tire business, SRI's sales for the period rose 12.4% to $3.59 billion. SRI's tire business reported a 35.7% drop in first half operating income, to $155 million, while sales increased 13.1% to $3.23 billion.
Following its acquisition of off-road tire maker ATG, Yokohama Rubber Co. posted a 16.8% increase in operating income, to ¥18.4 billion (€143 million), on first-half, net sales of ¥310.8 billion – 15.9% higher than in the same period last year.