Goodyear, Giti, Hankook plants in North America set to come online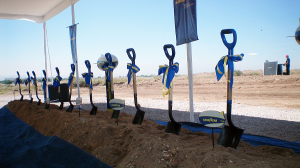 Akron, Ohio – Tire manufacturing in North America is due for a sizable boost over the coming few months as Goodyear, Hankook Tire America Corp. and Giti Tire Group commission commercial-scale production at new factories in Mexico and the US.
Together the plants — in San Luis Potosi, Mexico; Clarksville, Tenn.; and Richburg, S.C., respectively — represent nearly 17 million units of new annual capacity for passenger and light truck tires.
Hankook has scheduled a ceremonial ribbon-cutting at the 1.5 million-sq.-ft. Clarksville plant in mid-October, while Goodyear and Giti have yet to announce similar plans for their factories.
Hankook started trial production at its $580 million (€480 million) complex earlier this year and has begun training employees.
Hankook plans to ramp up production steadily by 2018 to the rated capacity of 16,000 units a day. It expects to have 1,000 employees in place by year-end.
The factory's output is expected to generate about $500 million in annual sales at full capacity, the company said in a 2016 financial statement, and provide Hankook the resources to boost its original equipment sales, especially in the premium sector.
Goodyear's plant, its first new factory in the Americas in 25 years, represents an investment of $550 million and is rated at 6 million tires a year. The company broke ground on the project in July 2015.
Goodyear said recently trial production is under way at the 1 million-plus-sq.-ft. plant, built on a 94-acre plot of land in an industrial zone on the southern edge of the city of San Luis Potosí.
Giti thus far has said only that production at its 1.8 million-sq.-ft. plant near Richburg will be commissioned "later this year."
Giti broke ground on the $560 million plant in February 2015. It anticipates creating 1,700 jobs at the plant over the coming 10 years.
The new plant already has scored a first for the company—an OE fitment with Volkswagen of America Inc.
Giti will deliver the tires to VW's assembly plant in Chattanooga, Tennessee.
John Aben, Giti's senior vice president of OE and consumer sales, said Giti invested about two years of work into garnering the OE contract, and having an OE position in North America will help Giti build its brand.