NR prices remain low despite supply shortfall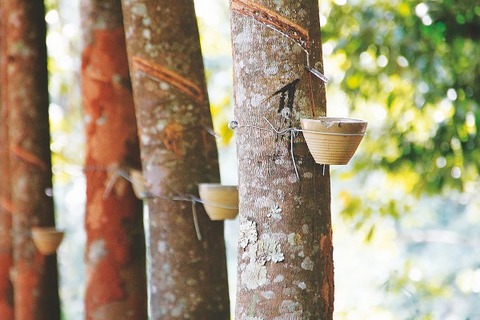 Washington – There is a current worldwide natural rubber supply shortfall of about 700,000 metric tons, according to recent reports from the Association of Natural Rubber Producing Countries.
Despite that shortfall, NR pricing has declined since the beginning of 2017, ANRPC data show.
Standard Malaysian Rubber 20, or Malaysian tire-grade rubber, began the year Jan. 3 at 205.9 U.S. cents per kilogram, and enjoyed an increase to 242.95 cents by Jan. 31, according to the association. Prices sank slowly through the spring to 138.1 cents on June 23 before edging up to 161.7 cents July 20.
By July 27, SMR 20 slipped again, to 152.6 cents per kilo. Other grades of rubber tracked by the ANRPC and its members showed similar patterns in the first seven months of 2017.
"NR Markets Close Out the Month Marginally Higher" was the headline for rubber trading firm RCMA Group's July 31 newsletter. NR prices struggled to recover from a slump on Chinese commodity markets the previous week, the RCMA newsletter said.
The world NR supply shortfall stood at 688,000 metric tons by June 2017, according to the ANRPC. However, the association said the shortfall would narrow to 466,000 tons by September and 103,000 tons by December.
Any number of factors contributed to the anomalous supply-demand situation, according to the ANRPC. Bad weather in Thailand early in 2017; speculation in Asian commodity markets, especially Tokyo and Shanghai; and the strength of the US dollar against Asian currencies all played a part.
The biggest factors, however, were low prices for raw materials, especially oil, and the reluctance of small NR farmers in Southeast Asia to tap or replant trees in a time of rock-bottom prices.
All of these make the supply and pricing picture unclear at best through the end of 2017, according to ANRPC Secretary General Nguyen Ngoc Bich.
Three factors in particular are likely to continue to the end of the year, according to Nguyen.
"Firstly, there will be more tapped areas to be discarded or abandoned," he said. "Secondly, the opening for tapping of young trees in some areas will be further postponed.
"Thirdly, the low productivity of rubber trees in the non-traditional areas will not be changed substantially."
Because of low prices, some NR farmers are expected to reduce harvesting and delay resumption of tapping of wintered trees, the ANRPC said in the June 2017 issue of its monthly publication, Natural Rubber Trends & Statistics.
In addition, the members of the International Tripartite Council (IRCo)—Thailand, Indonesia and Malaysia—announced plans in July to adopt "export restriction measures" to try to stabilize NR prices. The leadership of IRCo did not respond to requests for comment.
While it's difficult to pinpoint climate change as a cause of NR shortages, there is a growing consensus within the NR industry that climate change is a fact, according to an industry source who asked to remain anonymous.
"We've had one of the hottest years on record in the U.S.," the source said. "People are getting to recognize that temperatures are changing around the world. We're having heavy rains at times and in places where you used to be tapping trees."
Prices have reached the point where some farmers are cutting Hevea trees to sell the wood, rather than tap them for rubber, the source said.
Some Hevea acreage went inactive as NR prices dropped in parallel to oil, said Katrina Cornish, endowed chair and Ohio Research Scholar, Bioemergent Materials at Ohio State University. Some of it will not come back, and some already has been replaced, Cornish said.
"Demand is rapidly and steadily increasing," she said. "But new plantings are restricted and, of course, take a lot of time to establish.
"Deforestation moratoria on Hevea and on palm oil are gaining traction, so when financials support the felling of Hevea and replanting with palm oil, Hevea may have no place to go for new plantings," Cornish said.
While no one has an accurate figure, there probably are well over 5 million small farmers in Southeast Asia trying to make a living from tapping Hevea trees, according to Michael Fraley, CEO of Casa Grande, Ariz.-based guayule rubber development firm PanAridus L.L.C.
"I appreciate the plight of farmers trying to get value for a commodity linked to factors beyond their control," Fraley said. "This is a problem for the sustainable natural rubber initiative, because the industry has no clue where the farmers come from."
Fraley said he is an advocate of the idea that Hevea-producing countries have tried to run the natural rubber business as a cartel.
"When we have a biological product produced in such a small area, leaf rot and weather patterns can seriously affect both supply and pricing," he said.
Nevertheless, the sustainable rubber program at General Motors Co. could have a major effect on supply and pricing if it is successful, according to Fraley.
"This is a major customer saying, 'I want this,'" he said.
Of all the tire makers queried for this article, only Continental Tire the Americas L.L.C. replied.
Conti said NR supply shortages have not affected its rubber procurement, and it has been able to obtain all the NR it needs so far this year.
"We do not see natural rubber pricing as soft this year, especially when you look at the first quarter, when it was well above $2 per kilo," the tire maker said. "We expect volatile natural rubber pricing to continue, since price depends on various market conditions such as weather, socio-political issues and overall supply and demand."
Flooding and poor wintering in rubber-growing nations can have an impact on price, according to Conti. "Deforestation is of course a concern, which is why Continental continues to invest in dandelion rubber research," the company said.