Michelin notes rise in butadiene prices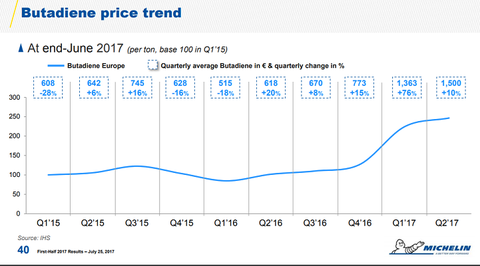 Clermont-Ferrand, France – Groupe Michelin has spent €2.6 billion in raw materials purchases in the first half of 2017, according to the tire-maker's half-year presentation on 25 July.
In the six months to end of June, Michelin's biggest spending was on natural rubber representing 28% of the purchases, closely followed by synthetic rubber which covered 26% of the purchases.
Fillers and chemicals came respectively after the rubber materials with 16% and 14% of purchases, followed by steel cord at 9% and textiles at 7%.
Furthermore, the French tire maker noted a decline in natural rubber prices in the second quarter of 2017, following a steep rise in the first three months.
According to Michelin, NR prices rose 25.7% to $2.1/kg in the first quarter, but dropped 26.9% to $1.5/kg in the second quarter.
The French tire maker also noted that the upward trend continued for butadiene prices in the first half of the year.
According to Michelin data, following a 76% rise to €1,363/tonne in the first quarter, butadiene prices registered another 10% growth to €1,500/tonne in the three months to 30 June.