Germany eyes Iran rubber & plastics machinery market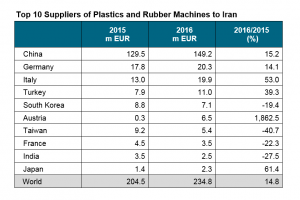 Tehran – Iran is becoming a growing market for German plastics and rubber machinery, according to a recent report by VDMA.
Additionally, in the first five months of 2017, German exports to Iran reached €21 million, demonstrating a staggering increase of 476.5 % compared to the same period the previous year.
Germany came second in the list of top 10 machinery suppliers to Iran, with China in clear lead with sales of nearly €150 million to Iran in 2016. Chinese suppliers had a 63.5% share of Iran's machinery market, followed by Germany's 8.6% share.
Italy also closely followed Germany with sales of €19.9 million to Iran during 2016, taking an 8.5% share of the market.
Turkey, South Korea, Austria, Taiwan, France, India and Japan made up the rest of the top 10 list.
In 2016 worldwide exports of plastics & rubber machines to Iran reached a total value of €235 million, showing an increase of 14.8 % compared to the preceding year.