EU automotive market nears pre-crisis levels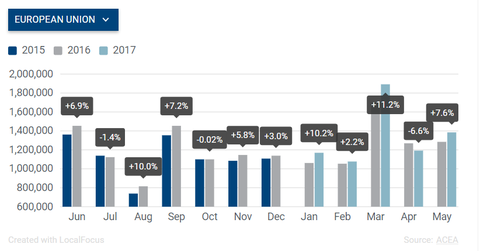 Brussels – Passenger car registrations across the EU approached pre-financial crash levels, having increased 7.6% in May to 1,386,818 units, the European Automobile Manufacturers Association (ACEA) has reported.
In volume terms, the result comes close to May 2007 levels, just before the economic crisis hit the automotive industry, the Brussels-based association said.
Gains were noted in all main markets last month, with the exception of the UK, according to the ACEA's 16 June press release.
The highest percentage gains were noted in Germany (+12.9%) and Spain (+11.2%), followed by France (+8.9%) and Italy (+8.2%). The UK market, on the other hand, saw an 8.5% decline in car registrations.
From January to May 2017, demand for passenger cars grew 5.3% across the EU, with 6,719,209 units registered in total, ACEA added.
Growth was noted in Italy (+8.1%), Spain (+7.3%), Germany (+4.7%) and France (+3.3%) over the first five months of the year, while the UK decline by 0.6%x.