Toyoda Gosei building fifth plant in India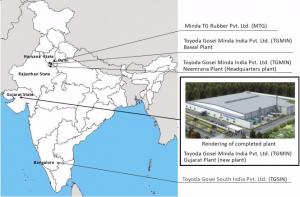 Kiyosu, Japan - Toyoda Gosei Co. is building a new plant in India to meet the country's growing automotive demand, the company announced in May.
The building of the new unit is timed to meet an expected increase in demand for airbags as stricter safety regulations are adopted in India.
The plant will be a branch of Toyoda Gosei Minda India Private Limited (TGMIN), and will supply to Suzuki Motor Gujarat (SMG) in the second half of fiscal 2018.
Built on a land of 20,000 square metres and with a building area of 8,500 square metres, the new plant is expected to employ 330 people by 2021 and have sales of over €34 million by the end of 2021 fiscal year ending 31 March 2021.
Toyoda Gosei said it viewed India as an important market, and has been expanding production capacity in the country.
The company's total sales in India reached €113 million in 2016, which the company expects to increase to €162 million by 2021.