SIPH notes natural rubber price slide, market volatility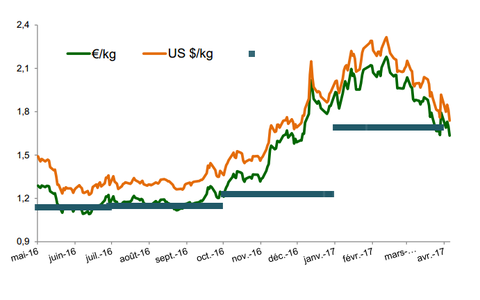 Courbevoie, France – Natural rubber company SIPH (Societe International de Plantations d'Heveas) has posted a 75.9% year-on-year rise in first quarter sales to €94.7 million amid what it said was a "highly volatile" rubber-pricing environment.
The French-headquartered group noted a two-fold trading trend on SICOM, with steady rise in prices to $2.28/kg on 15 Feb, before falling to $1.76 as of 30 March.
In Euro terms, SIPH equated the average NR price in the first quarter to €1.96/kg compared to €1.05/kg in the same period a year ago.
First quarter tonnages came in 12.3% higher at 54,000 tonnes, as the level of rubber purchased from total production increased to 74%, from 67% a year before.
Looking ahead, SIPH noted that NR prices had declined further in the second quarter to return to a level of $1.50/kg and that volatility was persisting in the market.