Freudenberg to build new seals production site in India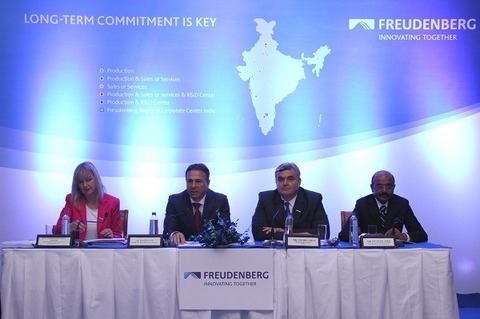 Bengaluru, India – Freudenberg Group has announced plans to expand activities in India to address growing demand in the the country's automotive market.
In an 18 May statement, the German technology group said construction work will start in autumn on a new plant in Chennai, India, which will produce "innovative sealing solutions among other products".
"With this investment, we are best serving our customers – precisely in India's strong automotive hub of Chennai," said Freudenberg Group's CEO, Mohsen Sohi, at a press conference in Bengaluru.
The €15-million facility will be built in an area of more than 56,000 square-metres, with capacity for further expansion.
"Our development in Asia is both positive and long-term oriented. We are moving closer to our strategic goal of generating one third of our sales in Europe, one third in America and one third in Asia," said the CEO of the Weinheim, Germany-based group.
Freudenberg's sales in India grew 15% in 2016 to €200 million, largely due to the acquisition of Vibracoustic, a former joint-venture business with Trelleborg AB to produce automotive vibration control technology.
Freudenberg's seven business groups in India employ some 2,500 people at around 50 locations – with six R&D centres and 14 production sites.
In the last five years, Freudenberg has invested a total of €50 million in manufacturing and research facilities and equipment in the country.???
Chennai has, in the past few years, become the capital of Indian's automotive industry with over 40% Indian automotive production based there.
The city, said the Freudenberg statement, is often referred to as "India's Detroit".