Survey: Compounders seeing higher growth in 2017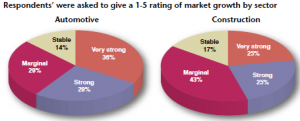 London – Business confidence in the European rubber compounding industry has increased across a wide range of measures recorded in ERJ's latest annual survey of the sector.
Compounders were asked to score various markets, as defined by material-type, country and end-use industry, on a scale of 1-5 – whereby the highest rating indicated 'very high growth' and the lowest 'in decline'.
Across all responses in the ERJ European Compounding Survey 2017, the average growth rating came in at 3.16, significantly ahead of the equivalent average of 3.01 recorded last year.
Among the markets showing the strongest gains were in the automotive and construction industries, while demand also increased for compounds based on EPDM and nitrile rubber.
Looking at the market strength in various European countries and regions, the highest averages were in Germany, Poland, Spain and Turkey.
The full, detailed report is published in the May/June issue of European Rubber Journal magazine.