NR price pressure to ease as surplus weighs in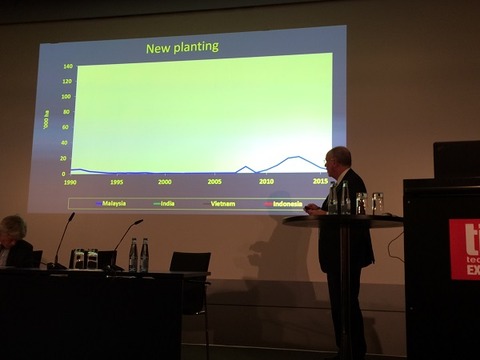 Hanover, Germany - A reduction in tapping activity as well as severe wintering season in Thailand will push natural rubber prices up for the next two quarters in 2017 before commodity surplus weighs in on the market again, according to Rubber Forecasts consultant and analyst Hidde Smit.
Speaking during the Tire Technology Expo in Hanover, Germany in February, Smit said tapping 'intensities' were going down in NR producing countries, mainly due to lower prices since 2013 – below $2.00 – and heavy floods earlier at the beginning of the year in the biggest producing country, Thailand.
"In Thailand the wintering period starts in February and we had floods first. And I've been told by people in the industry that if you have floods first and then the wintering period, the period will be most severe and longer, taking longer to dry out and to recuperate," explained the former secretary-general of the International Rubber Study Group.
In view of the rising demand and a slowdown in tapping, the expert forecast that NR prices in the coming two quarters of 2017 would go up to around $2.45/kg.
But then, he expects prices to go down: "That is because the Thais will come back tapping and maybe some of the other countries think there's hope and they continue tapping. And then that's when you have this big surplus again weighing on the market."
According to Smit, NR prices will decline slightly for a few years and then recover, when the peak in surplus production is over.
"By around late 2020s, depending on the consumption and planting scenarios, NR prices will reach $3/kg," he said.
Also commenting on the correlation between price of NR and butadiene, Smit said butadiene prices followed the price of oil until 2009.
"Since 2009, butadiene follows NR. Why? Because of this idea about substitution [of natural rubber with synthetic rubber]," he added.
If you look at it in my quarterly model, Hidde explained, there's a lag of one quarter between natural rubber prices and butadiene prices.
"Now in this quarter that we are in, butadiene went up more than NR due to speculations," the rubber consultant added.