ZC Rubber eyes 25% car tire growth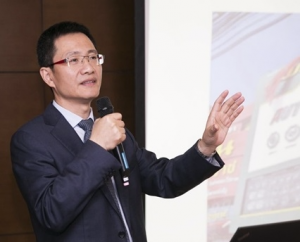 Dubai, UAE — China's Zhongce Rubber Group Co. Ltd. (ZC Rubber) is targeting growth this year of 25 percent in passenger tire production and 10 percent in truck radial production, company management told a recent dealer meeting in Dubai.
In addition to boosting production, ZC Rubber intends to start building a network of retail tier and auto care centres throughout Asia and is developing a cloud-based tire life-cycle management platform, according to Ge Guorong, vice president.
ZC Rubber's production goals for 2017 are 33.9 million car and 16.8 million truck tires, Ge said. ZC Rubber operates plants in Hangzhou and Anji, Zhejiang, China, and Rayong, Thailand, and goes to market with the Arisun, Chaoyang, Goodride, Trazano and Westlake brands.
In his remarks to the dealers gathered in Dubai, Ge said ZC Rubber will "guarantee a steady supply chain and will extend the reach of our network to better serve customers, also put in a serious effort to improve the sales together with all the dealers, achieving the new goal."
The company's retail plans focus on Auto Space, a brand owned by ZC Rubber active in automotive aftermarket. In 2016, ZC Rubber opened the first Auto Space outside of China, in Si Racha, Thailand.
Auto Space locations provide new tire sales, tire repair, alignment, balancing, brake service, cleaning, etc.
ZC Rubber's plans for a cloud-based tire life-cycle platform will focus on collecting information on air pressure, tire temperature and GPS location.
"This gives our dealers an opportunity to participate and to improve business mode and service. We will equip our dealers with program introduction, spare parts, training and IT system to go with the Auto Space project."