Conti's rubber business registers growth in 2016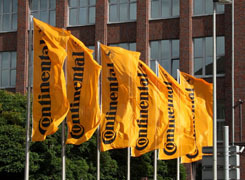 Hanover, Germany – Continental AG's Rubber Group has posted a 2% rise in sales at €16.0 billion for the full year 2016, the German company has announced.
Earnings for the rubber business rose 11% to €3.6 billion compared to 2015, with both Tire Division and ContiTech posting growth.
The Tire Division's earnings (EBITDA) were up from €2.6 billion to €2.8 billion in 2016, while ContiTech also posted a sharp rise of 26.6% in earnings at €731 million.
Sales in the ContiTech recorded organic growth of 2.5% to €5.5 billion.
In the Tire division, the company sold a "record" volume of 150 million passenger car and truck tires, said chief financial officer, Wolfgang Schaefer, during a 2 March Continental media webcast.
Sales in the Tire division registered organic growth of 4.7% to €10.7 billion. The adjusted EBIT margin rose to 21.7%.
"Thanks to this record result, the Tire division contributed more than half of adjusted consolidated EBIT," Schaefer added.
The division also acquired two major businesses during 2016 - Bandvulc in the UK and Hoosier Racing Tire in the US.
The Hoosier acquisitions, noted Schaefer, has further added to Conti's expertise in the field of ultra-high-performance tires.
For 2017, the Rubber Group expects raw material costs to have a negative impact of €500 million on its results in, according to Schaefer.
This is while the company enjoyed a €150 million positive impact of lower raw materials prices in 2016.